Datalogic Memor K, 2D, USB-C, BT, Wi-Fi, NFC, num., Android, Includes Battery, Power Supply, Cradle and Case
£655.64 inc VAT£546.37 excl VAT
Datalogic Memor K, 2D, USB-C, BT, Wi-Fi, NFC, num., Android, Includes Battery, Power Supply, Cradle and Case
Delivery time: Call for lead-time
Datalogic Memor K Mobile Computer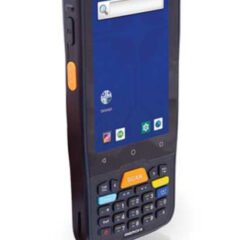 View Details
Datalogic's Memor K mobile computer is an ideal solution for any data capture application, from assisted sales to the shop floor, or back-end receiving to the warehouse. The Memor K mobile computer includes a powerful 2 GHz octa-core processor with 3 GB of memory featuring Android™ 9. The backlit keyboard ensures very fast data input, while the 4 inch display provides the user with plenty of space for their applications.
The powerful Wi-Fi connection which includes AC standard allows users to access very fast download and upload connections, while the USB-C ensures exceptional data exchange and charging speeds. The Memor K mobile computers' light weight and thin design, along with 2 comfortably positioned side keys and SoftSpot™ technology for a variety of user-defined functions, make scanning processes both easy and fast. It is also very durable with an IP54 rating and 1.2 m / 4 feet drop spec. The 3,800 mAh battery ensures a very long operational scanning session.
The soft-touch, backlit keyboard allows users to quickly type in information such as quantity, description or location of any item scanned. The lightning fast 2D imager allows users to easily read any 1D or 2D barcode from any surface, including mobile screens.
Key features include:
4 inch capacitive multi-touch display with Dragontrail™ hardened glass
Android 9
2 GHz, Quad/Octa CPU with 3 GB RAM / 32 GB Flash
Backlit 24 key rubber keyboard, plus two side scan keys and two programmable side keys
Replaceable 3,800 mAh Li-Ion Battery
Powerful Wi-Fi including the latest 802.11ac standard
Bluetooth® v5 short range wireless technology and BLE
NFC for proximity communications
Rear camera with auto focus, 8 MP with flash LED