Aerospace

Supplyline either directly or through our partners supply a number of OEM, Tier I / Tier II & Tier III suppliers and manufacturers.
These include companies like Boeing and Airbus and also Tier II and Tier III suppliers like Bombardier among others.
We supply many more companies like these in this industry but due to the sensitive nature of these companies and our relationship with them we would only discuss these companies directly with serious end user enquiries which we would welcome. If you want to find out why so many Aerospace companies trust and deal with Supplyline ID please get in touch.
LABEL TYPES FOR AEROSPACE FROM SUPPLYLINE ID
We offer a huge range and types of labels covering manufacturing, parts, distribution and the supplychain.
Aerospace and avionics labels are used in all flight parts that require reliable identification including Engine parts, cables and black box recorders.
Handling & Shipping labels such as 'Fragile' and 'This Way Up' (orientation arrows) help to make sure that greater care is taken with cargo handling and shipping.
It must be possible to tell whether the package is sensitive to heat or moisture, whether it is at risk of breakage, where the top and bottom are, where the centre of gravity is located and where loading tackle may be slung.
Our label range includes various specialised marks, including:
Lithium Battery Handling labels
Cargo Aircraft Only labels
Excepted Quantities labels
IATA Time & Temperature Sensitive labels
IATA Magnetized Material labels
Orientation Arrows
Overpack labels
Elevated Temperature labels
Keep Away From Heat labels
Fragile labels
Live Animals labels
Fumigation signs
All of our labels are fully compliant with national and international legislation (ADR, RID, IATA, IMDG).
Further details from our range include:
The Cargo Aircraft Only label (CAO label) is required for all consignments containing dangerous goods that are shipped by cargo aircraft.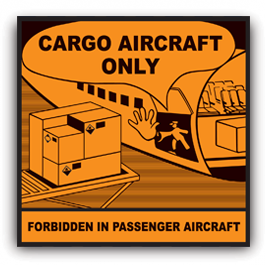 TYPES OF LITHIUM BATTERY
Lithium batteries are generally split into two broad categories: metal and ion.
Lithium-metal batteries are generally non-rechargeable, feature a higher energy density than other non-rechargeable batteries, and contain metallic lithium. They are used to power devices such as watches, pacemakers, hearing aids, cameras and calculators.
Lithium-Ion batteries were developed later and are usually considered to be more stable than their metal counterparts, but they are still a cause for concern. Lithium-ion batteries offer a high energy density, but they are rechargeable and they do not contain metallic lithium. They are commonly used in consumer electronics such as mobile telephones, computers and laptops.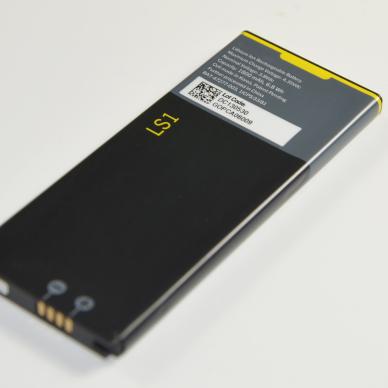 WHY ARE LITHIUM BATTERIES DANGEROUS?
All Lithium batteries may be subject to a so called 'thermal runaway'. This occurs when the internal circuitry is compromised, causing an increase in temperature in one or more of the cells.
The heat can reach a point where the cells vent hot gasses, which can then increase the temperature in neighboring cells until there is ignition and a fire. In short; because of the tendency of lithium batteries to ignite and burn violently when exposed to heat or fire, large quantities of batteries pose a significant safety risk, especially to aircraft. A shipment of lithium batteries can intensify the severity of a fire considerably and a relatively small incident can lead to an uncontrolled fire.
CLASSIFICATION
Lithium batteries are classified as Class 9 – Miscellaneous dangerous goods:
UN 3090, Lithium metal batteries (shipped by themselves)
UN 3480, Lithium ion batteries (shipped by themselves) or, if inside a piece of equipment or packed separately with a piece of equipment as:
UN 3091, Lithium metal batteries contained in equipment; or
UN 3091, Lithium metal batteries packed with equipment; and
UN 3481, Lithium ion batteries contained in equipment; or
UN 3481, Lithium ion batteries packed with equipment.
The labelling requirements differ for the transport of lithium batteries as cargo depending on whether the batteries are:
Contained in the equipment (like a watch, calculator or laptop)
Packed with the equipment (like in a power tool, packed alongside a spare battery)
In small quantities (which may be covered by Limited Quantities – the lowest of the four levels of the Carriage of Dangerous Goods)
In very small quantities, which are not subject at all to the provisions of the dangerous goods regulations (like two batteries installed in equipment).
In order to identify packages containing lithium batteries it is essential to label them as specified under the appropriate dangerous goods regulations. The two new Lithium Batteries labels shown below apply to all modes of transport.
THE NEW LITHIUM BATTERIES LABEL
There are two new Lithium Battery labels under the amended labelling requirements for IATA, ADR and IMDG. The new handling label or 'Lithium Battery mark' now includes a new symbol and the relevant UN Number as well as a Telephone number: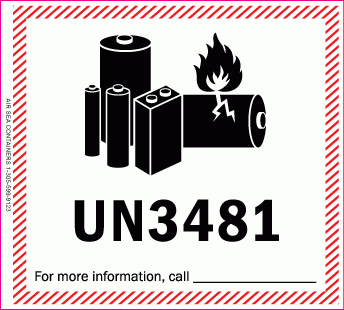 The new handling label must be in the form of a rectangle (120x110mm-minimun). It must have a red, hatched edging (5mm wide). The symbol (a group of batteries, one damaged and emitting flame) must be black and white. This symbol must sit above the UN number for lithium-ion or lithium-metal batteries or cells. If the package size is too small to hold this label then it may be reduced to not less than 105x74mm.
The telephone number included on the lithium batteries label should be of a person knowledgeable about the shipment, but this is not intended to be for the purposes of obtaining immediate emergency response guidance, and is therefore not required to be monitored at all times that the package is in transit. It is acceptable for the number to be monitored during the company's normal business hours in order to provide product-specific information relative to the shipment. However, it also is acceptable to use an emergency response, 24-hour phone number on the label.
A NEW Class 9 Lithium Batteries label replaces the existing Class 9 label for shipments that are subject to the full regulation as Class 9 hazardous materials.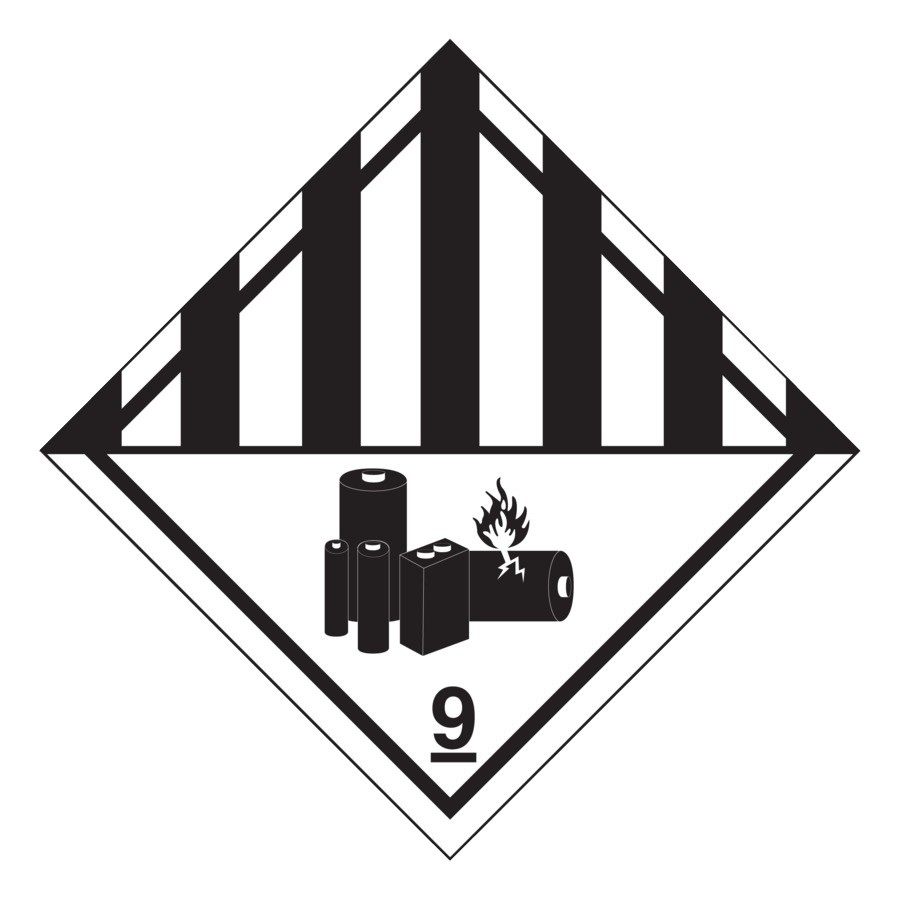 The new Class 9 Lithum batteries label must have seven vertical black stripes in the upper half of the label. The symbol (a group of batteries, one damaged and emitting flame) and an underlined number 9 must be black and white and appear in the lower half of the label.
Class 3, FLAMMABLE LIQUID Self adhesive hazard class shipping labels for shipments of hazardous materials (dangerous goods) in accordance with safety standards when shipping dangerous goods. … Flammable liquids are defined as any liquid having a flash point of = 60.5º C (141º F).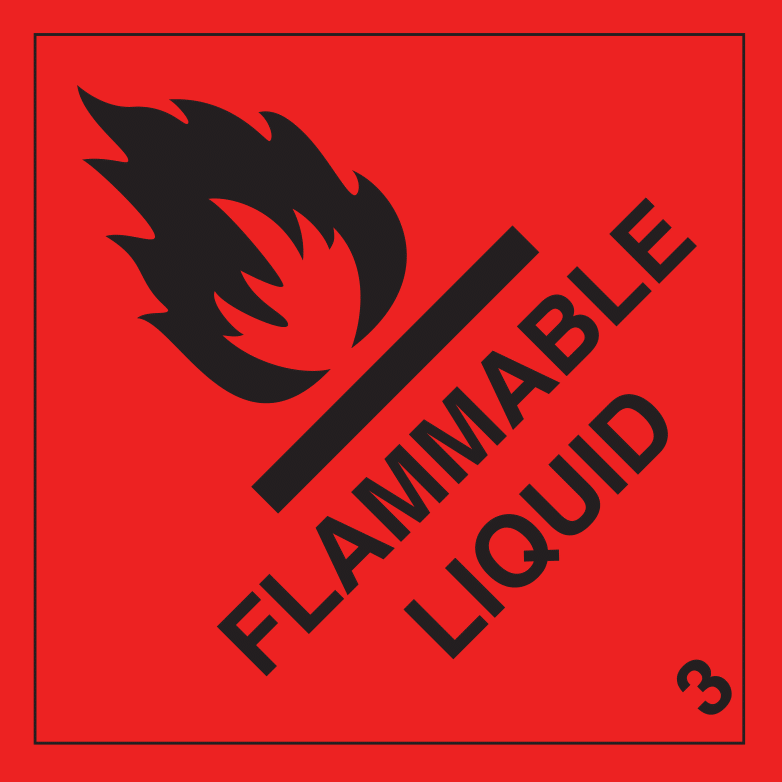 This Way Up Label: Transport or Shipping labels such as this "This way up" label protect sensitive parcels against incorrect transportation or wrong storage. The labels are weatherproof, the imprint shows two arrows pointing up.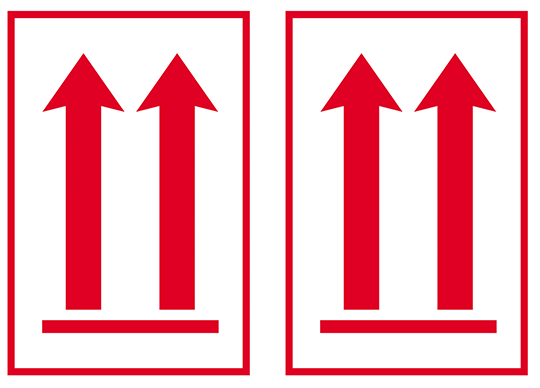 STRICTER REQUIREMENTS FOR AIR SHIPMENTS
Lithium Batteries (Ion and Metal) shipped without equipment are no longer allowed to be transported by PASSENGER aircraft. Lithium batteries not packed in equipment must be transported by cargo aircraft or by ground.
Lithium-metal batteries shipped by themselves – UN 3090 (not contained in, or packed with equipment), have been banned from being transported as cargo on passenger aircraft since 2014, after lithium-metal batteries were linked to two fires aboard aircraft; unstable, over-charged batteries were thought to be a contributing factor.
From 1st April 2016, lithium-ion batteries shipped by themselves – UN 3480 (not contained in, or packed with equipment), are also to be forbidden for transport as cargo on passenger aircraft. In addition, when transported in dedicated cargo planes, they must also be shipped at a state of charge (SoC) not exceeding 30% of their rated design capacity.
The latest prohibition on lithium-ion batteries from passenger aircraft has come after extensive reviews by the U.N.'s International Civil Aviation Organization (ICAO). The ban applies to shipments in passenger plane cargo holds and does not include the batteries inside gadgets that passengers travel with – for now.
The ban will remain in force until a new fire-resistant packaging is designed to transport lithium batteries more safely. A new packaging standard is expected to be in place by 2018 and until then, the ban is mandatory for all states that are members of the ICAO.
While the majority of lithium-ion batteries are transported on cargo ships, about 30% are still delivered by air and a single cargo container can hold thousands of batteries. New labelling requirements for IATA which include the new handling label and Class 9 label are effective from 1st January 2017.
LABEL TYPES & MATERIALS WE USE
3M Polyester
Ink Jet Receptacle
Recyclable Labels
A4 Laser Labels
Jet Gloss 90
Sheet Labels
Anodised Aluminium
Laser Labels
Sprocket Fed
Blockout/Blackout
Loop Tags
Tags
Clear laminates
Metallised Silver/Polyester
Tamper Evident
Clear PE
Oven Proof
Tactile
Clear PP
Paper Direct Thermal (Eco or Topcoat)
Tickets
Domed
Paper Thermal Transfer (Matt Vellum or Gloss)
Vinyl
Dot Matrix Labels
Polyester (PET)
Void
Fabric & Woven Labels
Polyethylene (PE)
Ultra Destruct
Fan Fold Labels
Polypropylene (PP)
Window Stickers
Fan Fold Tags & Tickets
PVC
Garden Centre Tags
Peel & Reveal
ADHESIVES WE USE
Acrylic based
High Tack
Ultra High Tack
Blockout / Blackout
Peelable
Ultra Low Tack
Chilled
Permanent
Void
Fastyre
Rubber Based
Water Resistant
Freezer
Tamper Evident
LABEL RESISTANCE SUPPLYLINE CAN OFFER
Chemicals
Handling
Scuff Proof
Extreme High Temperature
Moisture
Sea & Salt Water (BS5609 Standard)
Extreme Low
Outdoor Exposure
Solvents
Grease
Scratch Proof
UV Exposure
PRINTER & CODING RIBBONS SUPPLYLINE CAN OFFER
Coding Ribbons Colours
Full/Resin Ribbons
Coding Ribbons Full/Resin
Hot Foil Ribbons
Coding Ribbons Wax/Resin
Near Edge Wax/Resins Ribbons
Cold Stamping Ribbons
Near Edge Full/Resins Ribbons
Colour Ribbons (Primary & Metallic)
Premium Wax Ribbons
Chemical Ribbons (chemical resistant)
Standard Wax Ribbons
Enhanced Wax Ribbons
Washable Ribbons (Textile / Clothing Printing
Our ribbons can meet the following certifications :
Food Contact Europe
RoHS
Halogens
Heavy Metals
Marine shipping (BS5609)
California Proposition 65
REACH/SVHC
Food Contact USA
Print durability (UL)
Drug Master File