Anodised Aluminium
LABEL TYPES FOR ANODISED ALUMINIUM FROM SUPPLYLINE ID

Anodised aluminium labels are available in a range of different colour finished, ideal for labels, tags & signage. They can also be produced in varying degrees of thickness for increasing durablility.
The artwork is printed using anodic inks for maximum longevity. These are transferred to the metal through heat which are then sealed. Anodised Aluminium is especially durable because the design is absorbed into the face of the aluminium and not just applied to the surface like a standard thermal transfer label.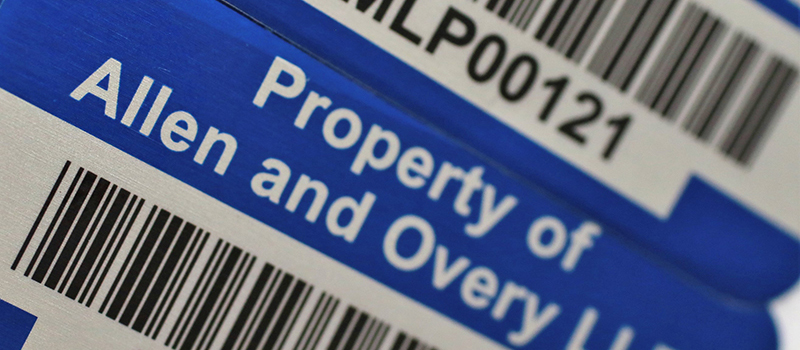 A range of speciality adhesives for different surface types, resistances and temperature ranges can be specified with your labels, with an easy to remove release liner.
Vinyl Asset Labels
These are our most economical labels, and they're perfect for tagging equipment around the workplace. Just peel them off and stick them on – a simple, fuss-free security solution.
Polypropylene Asset Labels
These labels are made from a polypropylene substrate that's easy to stick to a wide range of surfaces. We can over laminate them to make them extra-durable too.
3M Polyester Asset Labels
These labels are the ultimate resistance against abrasion and chemicals. They're over laminated with polyester film for heavy-duty protection and they'll survive for up to 5 years.
Anodised Aluminium Asset Labels & Tags
These rough-and-ready metal asset tags are made from high-quality anodised aluminium, so they'll survive anything you – or Mother Nature – can throw at them. Thanks to our efficient etching process, you can still enjoy a range of printed colours, text and numbers on your metal asset tags.
Tamper Evident 'VOID' Polyester Asset Labels
Our clever void polyester labels let you know if your equipment's been tampered with. These labels can't be transferred once they've been stuck on – giving you complete peace of mind.
Destructible Vinyl Asset Labels & Stickers
Our destructible vinyl asset labels are made from tamper-proof white vinyl material – so once they've been stuck down they can't be removed without splitting into smaller pieces that everyone will see.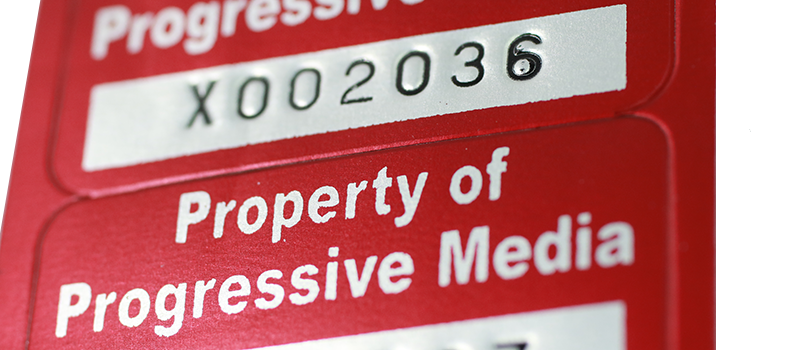 LABEL TYPES & MATERIALS WE USE
3M Polyester
Ink Jet Receptacle
Recyclable Labels
A4 Laser Labels
Jet Gloss 90
Sheet Labels
Anodised Aluminium
Laser Labels
Sprocket Fed
Blockout/Blackout
Loop Tags
Tags
Clear laminates
Metallised Silver/Polyester
Tamper Evident
Clear PE
Oven Proof
Tactile
Clear PP
Paper Direct Thermal (Eco or Topcoat)
Tickets
Domed
Paper Thermal Transfer (Matt Vellum or Gloss)
Vinyl
Dot Matrix Labels
Polyester (PET)
Void
Fabric & Woven Labels
Polyethylene (PE)
Ultra Destruct
Fan Fold Labels
Polypropylene (PP)
Window Stickers
Fan Fold Tags & Tickets
PVC
Garden Centre Tags
Peel & Reveal
ADHESIVES WE USE
Acrylic based
High Tack
Ultra High Tack
Blockout / Blackout
Peelable
Ultra Low Tack
Chilled
Permanent
Void
Fastyre
Rubber Based
Water Resistant
Freezer
Tamper Evident
LABEL RESISTANCE SUPPLYLINE CAN OFFER
Chemicals
Handling
Scuff Proof
Extreme High Temperature
Moisture
Sea & Salt Water (BS5609 Standard)
Extreme Low
Outdoor Exposure
Solvents
Grease
Scratch Proof
UV Exposure
PRINTER & CODING RIBBONS SUPPLYLINE CAN OFFER
Coding Ribbons Colours
Full/Resin Ribbons
Coding Ribbons Full/Resin
Hot Foil Ribbons
Coding Ribbons Wax/Resin
Near Edge Wax/Resins Ribbons
Cold Stamping Ribbons
Near Edge Full/Resins Ribbons
Colour Ribbons (Primary & Metallic)
Premium Wax Ribbons
Chemical Ribbons (chemical resistant)
Standard Wax Ribbons
Enhanced Wax Ribbons
Washable Ribbons (Textile / Clothing Printing
Our ribbons can meet the following certifications :
Food Contact Europe
RoHS
Halogens
Heavy Metals
Marine shipping (BS5609)
California Proposition 65
REACH/SVHC
Food Contact USA
Print durability (UL)
Drug Master File