Direct Thermal vs Thermal Transfer
There are two types of printers, Direct Thermal and Thermal Transfer.
Direct Thermal printers do not require a ribbon to print.  They are best suited for address labels, short-term price/barcode labels and parcel/pallet labels.
Thermal Transfer printers do require a ribbon and are best suited for asset tags, cable/wire marking, Indoor/outdoor signage and long-term price/high density barcode labels.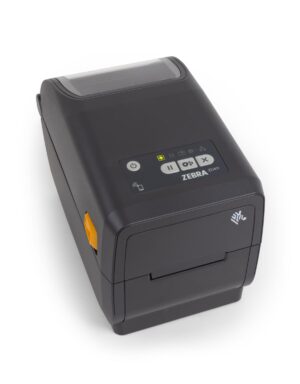 Before purchasing your printer there are five questions you need to ask yourself.
1. Does the application you are considering require durable print with some resistance to external influences?
2. Is the life span and cost of the label an important factor?
3. Do you plan to print onto different material types such as papers to synthetics, cards or textiles?
4. Are you looking for a print solution with low maintenance costs?
5. Would you like the flexibility to print in colour, rather than just black?
If the answer to just one of the above questions is YES, then Thermal Transfer would offer you the better printing solution. If NO, Then Direct Thermal will offer a suitable printing option for you.
Direct Thermal Printers
An example of something printed with the direct thermal method is a receipt from the till at a supermarket. Direct thermal printing is an excellent choice for many barcode and labelling applications; it requires no ribbon and therefore is a more cost effective option when printing labels.
Your labels will be limited to black print, unless special, pre-printed direct thermal paper is utilized, plus the printing is not as crisp as that of thermal transfer ribbon printing. Over time the labels will darken/fade, particularly when the surface gets scratched, or is subjected to heat and sunlight/uv.
A true direct thermal label printer utilizes a printhead that is made of thicker glass, for increased print head durability. Direct thermal printing is popular in the foods industry, since most items are stored away from heat and sunlight, and the label shelf life is less than 1 year.
The primary benefit is a lower cost initially and easier media changeovers since ribbon is not required.
Pros
No waiting for ink to dry or cool.
Low running cost.
Fast reliable printing.
Cons
Labels can be affected by temperatures.
Print can be affected by humidity.
Can be affected by liquids and chemicals.
Print can fade or label can discolour over time.
Thermal Transfer Printers
The main thing to understand about thermal transfer printers is that they require the use of a ribbon which gets transferred onto the substrate via heat, hence the name "thermal transfer".
The ribbons can be different colours, so you aren't limited to black print. The print quality will be very crisp and durable so this method is excellent for high density bar-codes and labels that require longevity.
Pros
No waiting for ink to dry.
Long last print.
Print can withstand various temperatures from freezing to boiling.
Print can withstand liquids.
Resin ribbons can withstand most chemicals.
Cons
Wax ribbon can smudge under heavy abrasion.
Wax can only be used with some materials (example: paper).
So what printer do I need?
Direct Thermal
Address labels
Short-term price/barcode labels
Parcel/pallet labels
Thermal Transfer
Asset tags
Cable/wire marking
Indoor/outdoor signage
Long-term price/high density barcode labels
Check out our range of printers including thermal barcode, label, receipt and ID card printers.