Direct Thermal (DT) Labels for Desktop Printers Large Roll Size – 5″ OD
Our DT range of stock labels are produced premium A-Grade Direct Thermal material suitable for Direct Thermal printing (NO ribbon required). Suitable for short life labelling such as shipping and address labels.
These are produced with a Permanent adhesive which has an upper service temperature of +60C and a lower service temperature of -30C. With a good initial tack these are suitable for use in a wide range of applications and environments.
Click here for compatible printers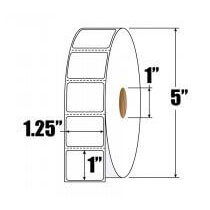 5p
* 25 mm inner core
* Outside wound
* 5″ outer roll diameter

COMPATIBLE PRINTERS
CAB Mach 200 / Mach 300
CITIZEN CL-E321 / CL-S300 / CL-S321 / CL-S521 / CL-S621 / SL-S631 / CL-P521 / CL-P621 / CL-P631
PRINTRONIX T-400 / T-600 / T-800
Datamax, Intermex & Honeywell – [View Range]
DATAMAX, INTERMEC & HONEYWELL C4 / PC4 / E4 / E-CLASS / E2404 / PC-23 / PC-4 / PC-41 /PC-42 / PC-43 / PF-8D / PF-8T
TOSHIBA TEC B-EV4D / B-EV4T / B-FV4D / B-FV4T / B-SV4D / B-SV4T
SATO CG-208 / CG-212 / CG-408 / CG-412 / CX-200 / CX-210 / CX-212 / SA-408 / WS-208 / WS-212 / WS-408 / WS-412
TSC DA-200 / DA-210 / DA-220 / DA-300 / TA-200 / TA-300 / TC-200 / TC-300 / TDP-225 / TDP-244 / TDP-245 / TDP-247 / TDP-324 / TDP-345 / TTP-244 / TTP-254 / TTP-343 / TTP-345 / TX-200 / TX-300 / TX-600
ZEBRA GC-420 / GK-420 / GX-420/ GX-430 / GT-800 / ZD-420 / ZD-500 / ZD-620 / LP2844 / TLP-2844 / TLP-3842 / TLP-3844