Direct Thermal (DT) Labels for Industrial Printers – Roll Size – 8″ OD
Our DT range of stock labels are produced premium A-Grade Direct Thermal material suitable for Direct Thermal printing (NO ribbon required). Suitable for short life labelling such as shipping and address labels.
These are produced with a Permanent adhesive which has an upper service temperature of +60C and a lower service temperature of -30C. With a good initial tack these are suitable for use in a wide range of applications and environments.
Click here for compatible printers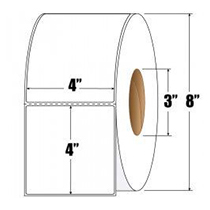 8p
* 76 mm inner core
* Outside wound
* 8″ outer roll diameter

COMPATIBLE PRINTERS
CAB Apollo / Apollo II / Apollo III / Mach 4 / A4+ / A6+ / A8+ / Calypso / Eos-1 / Eos-4 / Squix-4 / Squix-6
CITIZEN CL-E720 / CL-E730 / CL-S700 / CL-S730
PRINTRONIX T-2N / T-4M / T-6204 / SL-5306 / T-6000 / T-8000
Datamax, Intermex & Honeywell – [View Range]
DATAMAX INTERMEC & HONEYWELL (All W/H/I & M Class models) / H-4310 / H-4604 / H-4408 / H-4212 / H-6210 / H-6212 / H-6308 / H-6310 / H-8308 / P-1115 / P-1125 / P-1725 / PD-43 / PM-42 / PM-43 / PX-4i / PX-6i /
TOSHIBA TEC B-452 / B-472 / B-482 / B-572 / B-672 / B-872 / B-EX4D / B-EX4T / B-EX6T / B-EX8T / B-SA4T / B-SX4 / B-SX5 / B-SX8T /
SATO CL-408e / CL-412e / CL-4NX / CL-6NX / M-84
TSC ME-240 / ME-340 / MH-240 / MH-340 / MX-340P / MX-420P / MX-640P / TTP-2410MT / TTP-246MP / TTP-2610MT / TTP-286MT / TTP-344MP / TTP-346MT / TTP-368MT / TTP-384MT / TTP-644MT
ZEBRA 105S / 105SE / 105SL+ / 110-Xi4 / 140-Xi4 / 170-Xi4 / 220-Xi4 / RT-220 / RT-230 / Z4000 / Z4M/Z4M+ / Z6000 / Z6M/Z6M+ / S4M / S400/S600 / ZT-220 / ZT-230 / ZT-410 / ZT-420 / ZT-510 / ZT-610 / ZT-620