Plain labels
Plain Label Material Descriptions

3M Polyester – Non tearable and available in white and silver finishes, 3M is a variant of normal Polyester, so it shares the durable and water/chemical resistant properties when paired with an appropriate adhesive. Can be used for durable goods labelling, asset identification, stainless steel and glass labelling plus more.
A4 Laser Labels
We offer a stock range of over 40 sizes in plain white A4 laser labels, choose between Butt-Cut and Die-Cut sizes to suit with the best prices in the UK. We can also offer a range of made to order laser labels that include colours and synthetic materials and a range of adhesives.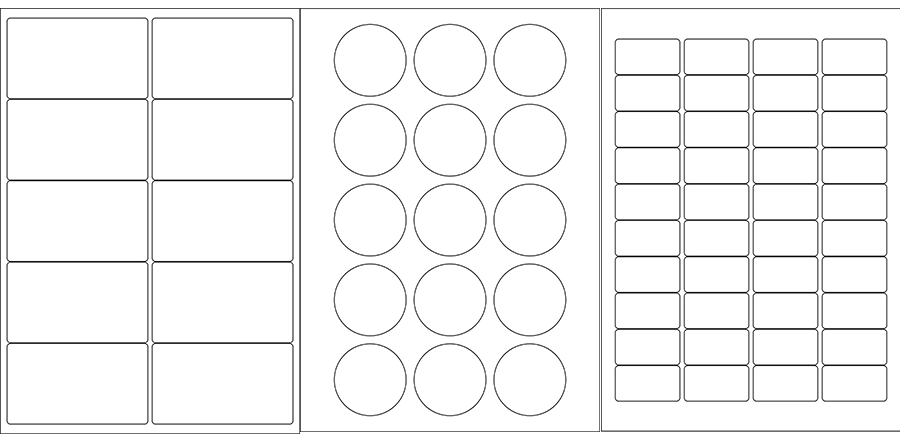 BLOCKOUT Labels that cannot be seen through are most commonly referred to as 'blockout' labels but also known as blackout or cover up labels, there sole purpose is to cover over or blockout what is underneath.
These labels are used more and more for various goods and reasons commonly when goods travel from one region to another i.e. Asia to Europe where a product is labelled with non EU stadnard barcodes / text / price points etc and needs to be re-labelled for re-sale into the EU.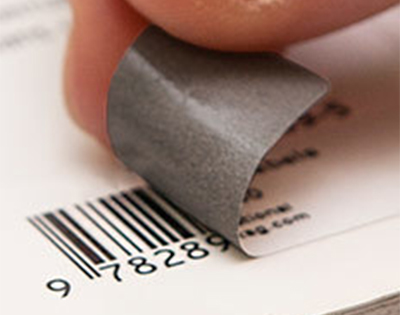 There are plenty of reasons to use a blockout label; like reusing packaging with old information that's no longer of use i.e. address labels or identity labels used for storage, covering mistakes on a previous label or improved label legibility on pre-printed packaging.
The most widely used methods used to make labels opaque are by using a coloured adhesive or an dark-backed face material.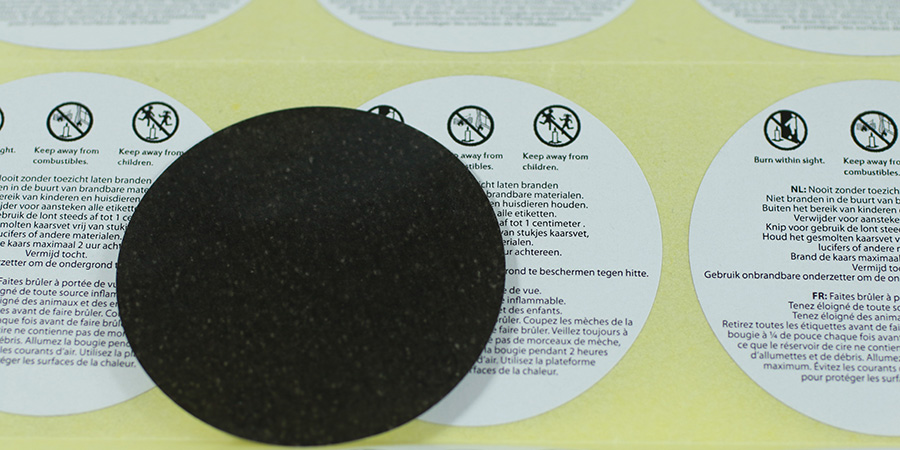 Clear Laminates – Laminating a label is a process in which an entire clear layer is placed over the top of a printed label. Laminating film will provide added protection to the print against abrasion, water, oils and some chemicals, while also adding the option for a matt or gloss finish on your labels.
Clear PP & PE – Clear labels can be produced using polypropylene and polyester materials, the only difference being the longevity of the labels, as polyester is for labels with a lifespan typically over 2years. The flexibility and non-tearing properties allow for labelling of curved surfaces and offer moisture and chemical resistance.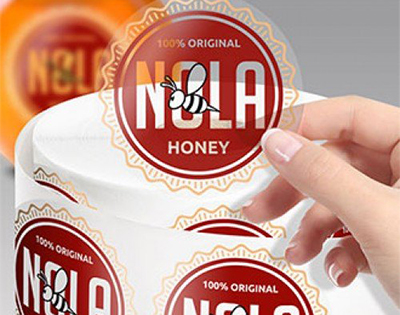 Fan folded labels or Tags When printing in extremely high quantities, having to replace empty label rolls can add-up to an awful lot of down-time. A printer that is designed to be able to use fan-folded labels can hold many more labels that the standard on-a-roll format. Not to mention the labels don't get curled around around a core, meaning that work slightly better with an automatic applicator.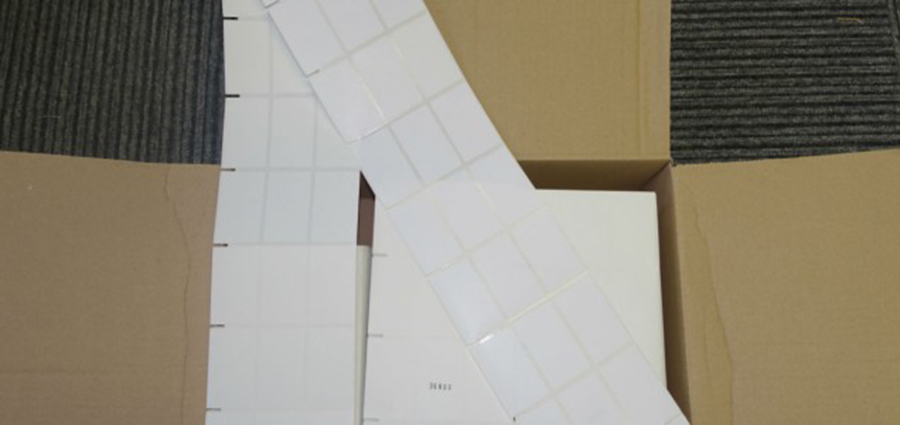 There are many benefits to using fan-folded labels over their on-roll counterparts, including but not limited to:
less frequent change-overs on printers do to higher label capacity
reduces storage space used
labels retain a flat-shape as opposed to being curled around a core for extended periods of time.
No cardboard cores mean less waste to dispose of.
Garden Centre Tags – Garden centre tags come in difference shapes and styles for specific applications, like loop, stick-in, and plant picture tags. The materials used are laminated paper or synthetic to ensure protection against water resistance and abrasion. Tags can be supplied plain for your own in-house finishing or pre-printed ready for use.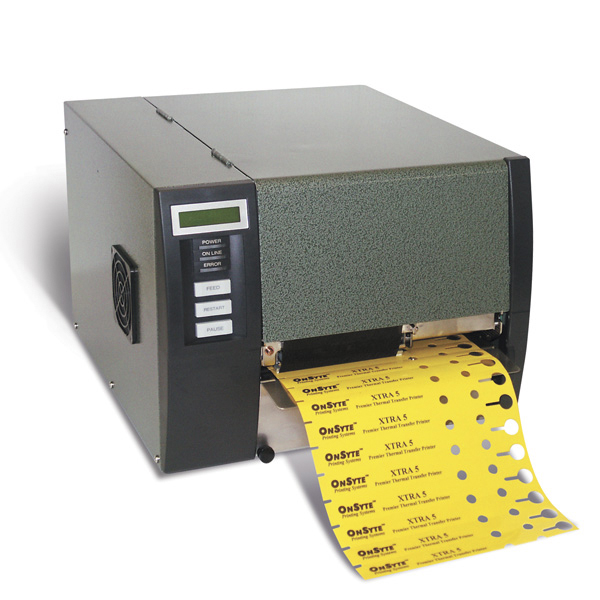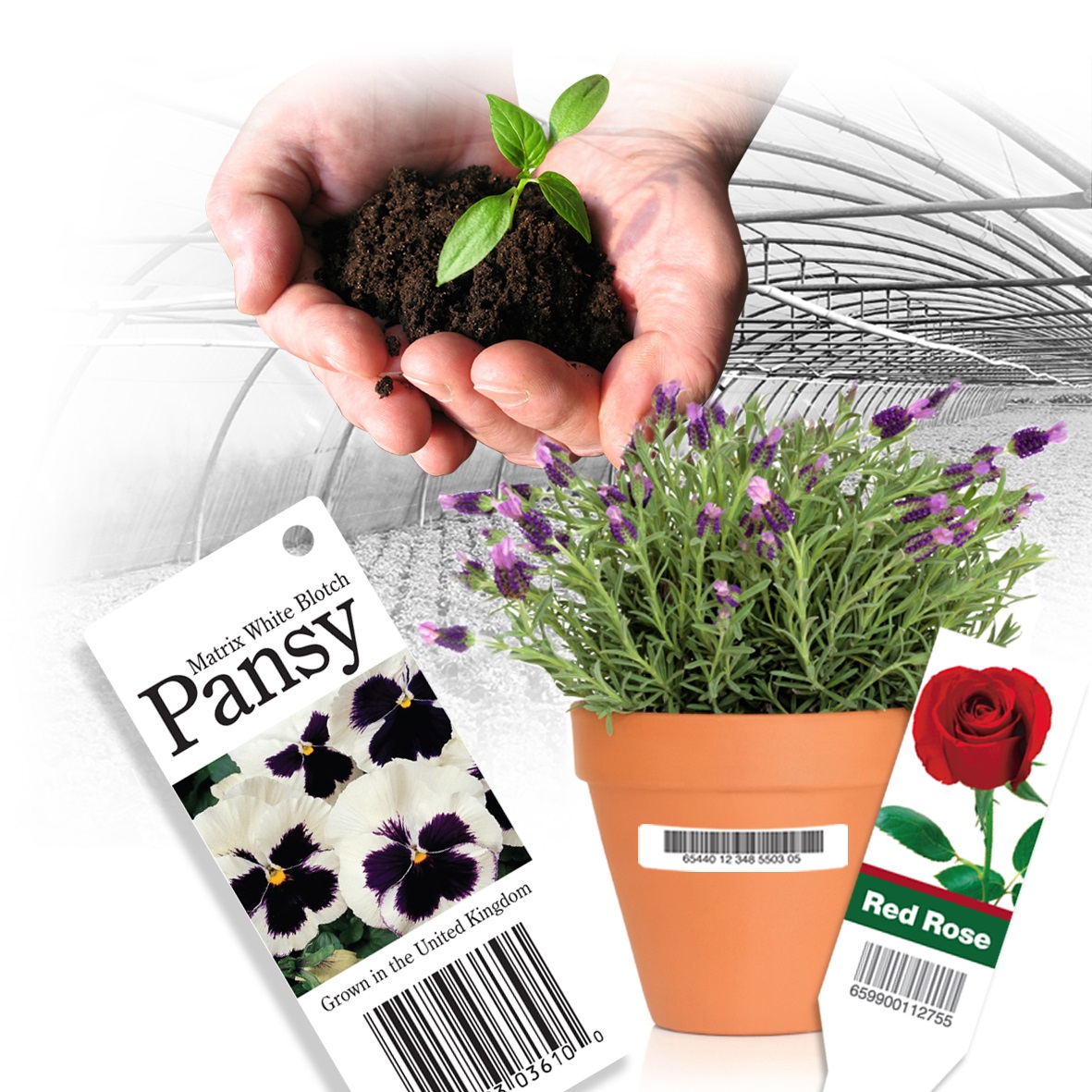 Ink Jet Receptive – Ink Jet colour labels printers from companies like Epson / Oki / Primera & VIP require a special type of quick dry label material that is design to absorb ink quickly and effectively. The materials used for this purpose can be paper for a more cost effective solution, or synthetic like PP/PE for a waterproof product packaging labels and GHS compliance labelling. (some even to BS5609 rating)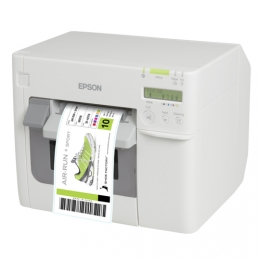 JetGloss90 – This is one of our preferred Ink Jet materials in GLOSS, used mainly for commercial inkjet printing, it is universally printable with dye and pigment inks making it a great all-rounder. JetGloss can be paired with peelable, permanent, freezer and hotmelt adhesives for a range of applications and environments.
JetMatt90 – This is one of our preferred Ink Jet materials in MATT, used mainly for commercial inkjet printing, it is universally printable with dye and pigment inks making it a great all-rounder. JetMatt can be paired with peelable, permanent, freezer and hotmelt adhesives for a range of applications and environments.
Loop Tags – Loop tags can be used to identify products and track batches among other thing, across many industries from industrial to horticulture and food manufacturing. Supplied pre-printed or plain for on-demand printing, loop tags are manufactured on durable material ensuring maximum longevity; with added options such as metal-detectability and heat resistance to over 300°C.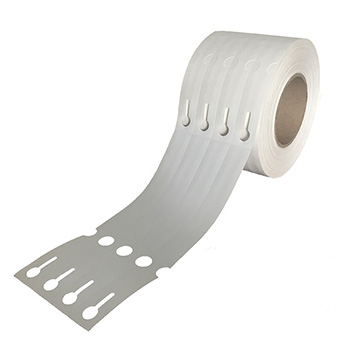 Metallised Silver/Polyester – Metallised labels provide a perfect on-demand durable print solution for rating plates and asset tag applications. These labels offer one of the highest levels of resistance to harsh chemicals and heavy abrasion. Whether they are pre-printed or produced on your own printer with a full-resin ribbon, your print will have be able to cope with abrasion, heat, tearing and chemicals.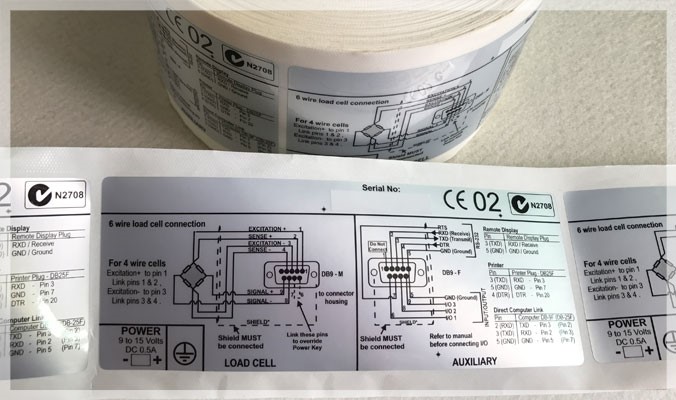 Oven Proof – Labels and Tags that are used in the automotive, industrial and food industries can vary in heat requirements, and so we provide as many options as possible for increasing temperatures, prolonged exposure and other environmental factors. Labels can be produced with special adhesive to go over 200°C for short periods and non adhesive tags can be specified in paper or synthetic for over 300°C then for the most extreme, we can offer laser-printed stainless steel tags that can be nailed or welded.
Direct Thermal Paper
Economy – Direct thermal labels are great for cost saving as I removes the need for a thermal ribbon. Eco labels are a cheap solution for any label that only needs to last for a couple of weeks at the most, for example shipping labels. These offer only minimal protection against UV, abrasion and moisture.
Topcoat – Topcoated direct thermal labels are the same material as eco but with a protective coating (topcoat) over the imaging layer. The coating still allows the print head to heat the imaging layer for printing while protecting the printed area from abrasion, moisture and some UV exposure.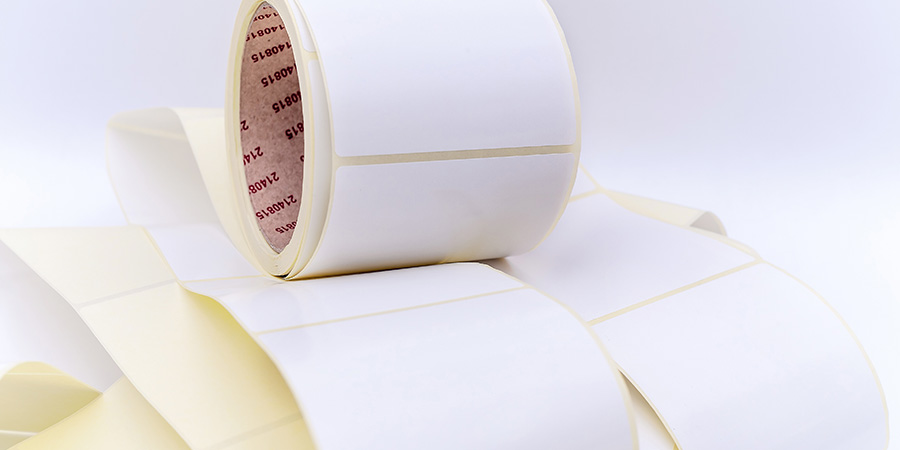 Thermal Transfer Paper
Thermal transfer printing uses a thermal ribbon coated with ink and melts the ink onto a label which absorbs it into its surface. This makes the label more durable as it's not possible to mark through abrasion has full UV resistance and they are also very legible. The durability of the print increases depending on which ribbon grade you use (wax, wax/resin, or full-resin).
Thermal transfer labels are produced in two finishes, MATT which is a matt vellum for a paper-like finish with low moisture resistance or you can choose GLOSS which is a semi-gloss for a shinier finish, slightly higher resistance to water and weathering, plus it is more receptive to higher grade ribbons for a long-lasting print.

Polyester Labels (PET)
Polyester is a synthetic material with a broader range characteristics and protections than those offered by paper; the key difference being their durability over paper labels and their ability to cope with a much more demanding conditions and environments. If your labels that receive extensive use and handling, such as labelling consumables, cosmetics or asset labels; polyester with a thermal transfer ribbon is probably going to be your best bet. These labels can be produced clear, plain white or pre-printed with the added choice of a matt or gloss finish.
Polyethylene Labels (PE)
Without getting too technical, the only difference between Polyethylene and Polyester is the chemical structure. Of all poly-synthetics polyethylene is the thickest and most flexible. It is commonly used for labelling products that expand and contract when operating at temperatures up to around 200°C making Polyethylene useful for strong tamper evident seals on lids and engineering/electrical items.
Polypropylene Labels (PP)
Polypropylene labels require a thermal transfer ribbon to print but offer a premium and long-lasting print quality as a result.
Polypropylene labels are ideal for labelling products such as cosmetics and cleaning agents, or any label application where resistance to chemicals, handling or the weather is needed. Polypropylene is also versatile because of it's non-tearing structure and flexibility, making it a viable option for almost every product/application.
PVC
PVC labels come in two main forms, soft PVC (labels) and hard PVC (tags) both of which are hard wearing, water water resistant and come in clear or white with matt or gloss finish. Hard PVC is very flexible, easy to mold, not brittle and has a long storage time. Therefore, it has great development and application value.
Soft PVC is generally used on the surface of floors, ceilings, and leather. However, since soft PVC contains softener (which is the difference between soft PVC and hard PVC), it tends to become brittle and difficult to store, so its use range is limited.
Tags and tickets are found across nearly every business type whether it be economy paper swing tags or shelf tags found in retail and clothing, heat-resistant/metal-detectable loop tags for industrial food production, or super durable synthetic tags that have to cope with the harsh conditions found in the industrial and lumber sectors.
The tags and tickets we produce are compatible with almost any thermal printer for in house printing in high quantities, and can be pre-printed with any template or design of your choosing from 1 colour to full colour digital.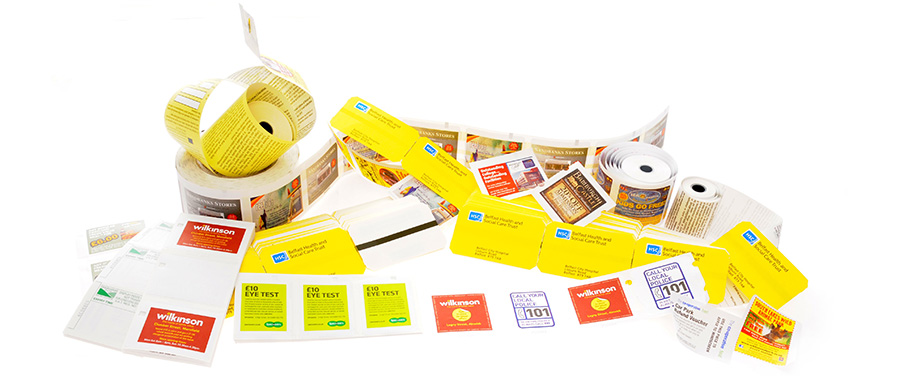 Vinyl
Vinyl labels are the ideal solution for when your labels need to be waterproof, tear-resistant and food safe. Vinyl is a hard-wearing, waterproof label material that will display your information professionally in virtually any setting with years of protection against abrasion, moisture and UV exposure. Supplyline can manufacture vinyl labels plain for hand-writing or on demand printing, and fully printed for direct application, both available with gloss or satin-matt finish and adhesives varying from peelable to hi-tac and freezer grade.
Destructible (security) Labels
Vinyl destructible labels are specifically labels that cannot be removed without fracturing into tiny pieces; it not only deters removal of the label but gives evidence of tampering upon attempting. This is achieved using a high strength adhesive and specialist vinyl that breaks apart on removal, once the adhesive has cured. Destructible labels can be supplied pre-printed or plain white, both top-coated to protect your print.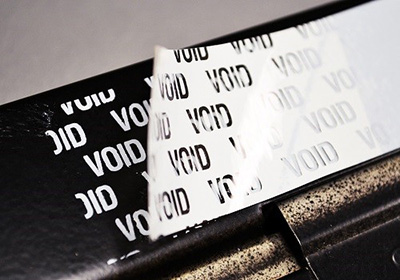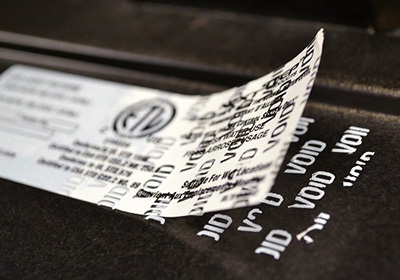 Residue: leaves the word "VOID" in adhesive-residue left on the surface it has been applied to, as well as visibly destroying the label itself
Non-Residue: has the same effect as the above label, just without leaving a mark on the surface it's been applied to. (for use with batch/serial labels that can't be replicated once destroyed)
Destructible: it is impossible to remove the label in one piece, it will continually fracture into tiny pieces. (used mostly in asset-labelling or for products with a warranty and return procedure)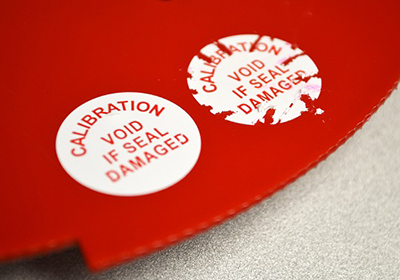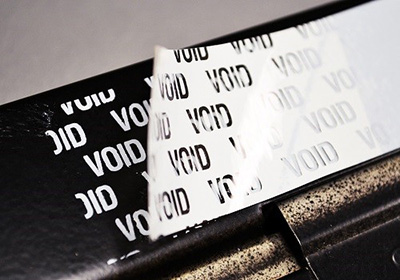 LABEL TYPES & MATERIALS WE USE
3M Polyester
Ink Jet Receptacle
Recyclable Labels
A4 Laser Labels
Jet Gloss 90
Sheet Labels
Anodised Aluminium
Laser Labels
Sprocket Fed
Blockout/Blackout
Loop Tags
Tags
Clear laminates
Metallised Silver/Polyester
Tamper Evident
Clear PE
Oven Proof
Tactile
Clear PP
Paper Direct Thermal (Eco or Topcoat)
Tickets
Domed
Paper Thermal Transfer (Matt Vellum or Gloss)
Vinyl
Dot Matrix Labels
Polyester (PET)
Void
Fabric & Woven Labels
Polyethylene (PE)
Ultra Destruct
Fan Fold Labels
Polypropylene (PP)
Window Stickers
Fan Fold Tags & Tickets
PVC
Garden Centre Tags
Peel & Reveal
ADHESIVES WE USE
Acrylic based
High Tack
Ultra High Tack
Blockout / Blackout
Peelable
Ultra Low Tack
Chilled
Permanent
Void
Fastyre
Rubber Based
Water Resistant
Freezer
Tamper Evident
LABEL RESISTANCE SUPPLYLINE CAN OFFER
Chemicals
Handling
Scuff Proof
Extreme High Temperature
Moisture
Sea & Salt Water (BS5609 Standard)
Extreme Low
Outdoor Exposure
Solvents
Grease
Scratch Proof
UV Exposure
PRINTER & CODING RIBBONS SUPPLYLINE CAN OFFER
Coding Ribbons Colours
Full/Resin Ribbons
Coding Ribbons Full/Resin
Hot Foil Ribbons
Coding Ribbons Wax/Resin
Near Edge Wax/Resins Ribbons
Cold Stamping Ribbons
Near Edge Full/Resins Ribbons
Colour Ribbons (Primary & Metallic)
Premium Wax Ribbons
Chemical Ribbons (chemical resistant)
Standard Wax Ribbons
Enhanced Wax Ribbons
Washable Ribbons (Textile / Clothing Printing
Our ribbons can meet the following certifications :
Food Contact Europe
RoHS
Halogens
Heavy Metals
Marine shipping (BS5609)
California Proposition 65
REACH/SVHC
Food Contact USA
Print durability (UL)
Drug Master File