Omnii XT15F Windows CE 6, Wavelink, 34 key numeric keypad
£2,554.18 inc VAT£2,128.48 excl VAT
XT15F ARCTIC W/EXTR DUTY, 512MB SDRAM/1GB FLASH ROM, CE 6.0, English, WAVELINK, 34 KEY FRZR RETRO NUM TEL 12 FN, 802.11 A/B/G/N BT 2.0 EDR, 2D-SE4600LR, FRZR 5300 MAH, PSTL GRP TETH STYLS
Delivery time: 2 - 4 days
Omnii XT15F Freezer Rugged Mobile Computer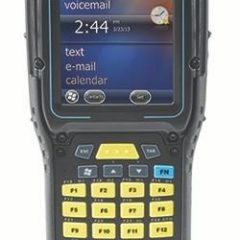 View Details
The Zebra Omnii XT15 Freezer rugged mobile computer is the right modular mobile device for different cold chain environments with Chiller and Arctic models along with a variety of lasers, imagers, radio and specialized options available to suit multiple applications
Flexible wireless connectivity options provide compatibility with virtually any wireless LAN and plenty of bandwidth to support the modern graphical user interfaces of today's demanding applications. With over twenty expansion modules currently available, the Omnii XT15 supports over 280 configurations to help boost task efficiencies. Combined with rugged design, superior reliability, 1D scanning, an integrated 3MP camera with built-in flash and real world practicality, the Omnii XT15 series is the ultimate supply chain handheld solution.
With its certified IP67 and IP65 sealing rating, the Zebra Omnii XT15ni rugged mobile computer delivers reliable performance and unparalleled adaptability for the most demanding environments and applications.
Uniquely adaptive by design, the Omnii XT15 is now equipped with support for digital Narrowband wireless connectivity giving your customers the most wireless options in one device. Only Zebra offers Narrowband, a wireless solution designed specifically to bring cost-effective, robust and secure data-only wireless connectivity to vast areas such as seaports, rail yards, airports and expansive outdoor manufacturing yards.
Features
Tough technology – option of Windows® CE 6.0 or Windows® Embedded Handheld 6.5 operating systems
Field-upgradeable adaptability – boasting easy configurability: add-ons and accessories are simply bolted on.
Optimized ergonomics – equipped with Kiosk Mode software and transflective touch screens that enable a friendly user interface.
Rugged design for superior reliability and TCO
Flexible wireless connectivity options – only Zebra allows users to choose between cellular, Wi-Fi, or Narrowband wireless connectivity, allowing the most wireless options in one device
Real-world practicality – extended battery life of up to 20 hours; 3.7-inch VGA color; 95db keypad beeper with vibration feedback and integrated 1D/2D imager.