Transportation & Logistics

Supplyline only offer the highest quality ribbons from the market leading manufacturers that include Armor, ITW Thermal Films, Inkanto, Richoh & Sony plus all the genuine branded ribbons from Zebra, Honeywell and Toshiba. This enables us to meet any ribbon requirement with the perfect grade or ribbon type ensuring not only perfect print every time but also the correct resistance or protection to last the life of the product or application.
Buy Printer & Coding Ribbons from Supplyline, one of the largest resellers of Printer & Coding Ribbons in the Industry, we sell at the most competitive price and carry by far the largest stock range in the UK.
Challenge us to save you money, improve your print quality and increase the life of your printer or printhead, we wont be beaten on price.
RIBBON TYPES & APPLICATIONS FOR THE TRANSPORTATION INDUSTRY
The product identification and traceability label
The shipping label is the central element ensuring product identification and traceability. At all times it must be visible to the naked eye and barcode reader. To guarantee the reading quality of such information it is important to select the right print technology, label and ink.
Shipping label printing
Transport conditions and numerous stages of handling generate abrasion and impact between packages which may degrade the printed message or leave marks on the label. For international logistics operations, and depending on the mode of transport, labels may be temporarily exposed to the weather such as UV light or humidity.
Without a specially designed print solution, logistics information and traceability data may be erased and cause delivery delays and even product losses.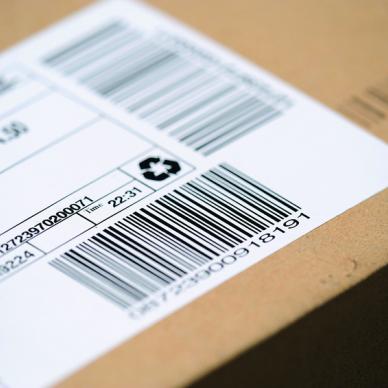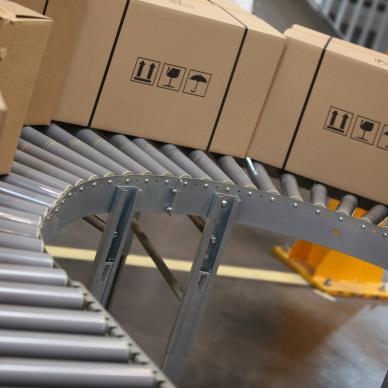 inkanto ribbons for shipping label printing
Thermal Transfer printing of shipping labels offers effective solutions for all such constraints.
inkanto Wax inks (AWR® inks) in combination with entry-level paper offer a competitive solution that is suitable for short-duration shipments with little exposure to constraints causing deterioration.
For more demanding logistics environments or for international shipment, the label and ink are subjected to greater constraints. In such cases, more resistant labels made of coated paper should be used in combination with a high performance Wax ribbon (AWX® ribbon) or Wax-Resin ribbon (APR® or APX®).
Thermal Transfer technology is fully compatible with labels containing an RFID tag, which are being introduced to improve traceability efficiency of shipping labels.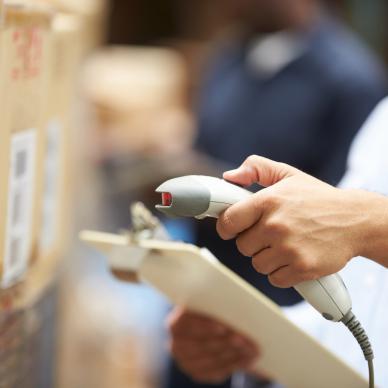 Informing the user and guaranteeing product traceability
Transportation & Retail labels contain all the information that accompanies the product during the various logistics and retail stages. A poorly-printed or damaged barcode, price or description may complicate the process of product distribution and in some cases even generate penalties imposed by retailers.
Furthermore, the print may form an integral part of the product and contribute to the quality of its brand image.
Information printed using Thermal Transfer offers a very high quality visual finish and can be easily read with the naked eye and barcode scanners.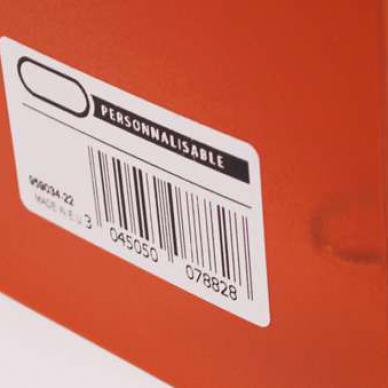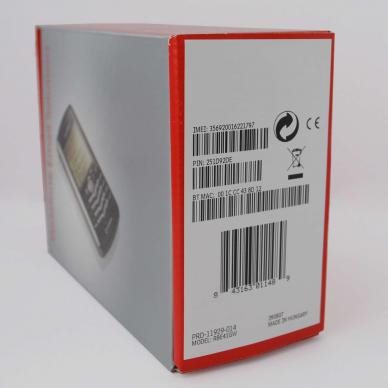 inkanto ribbons for retail product labelling
inkanto Wax ribbons (AWR®/AWX® range) offer an excellent quality/price ratio. The ink is especially well suited for rough paper labels, while offering an optimum visual quality for the printing of barcodes and alphanumeric characters.
inkanto Wax-Resin ribbons (APR®/APX® range) stand out through the sharpness of their print, ideal for horizontal, vertical and 2D barcodes, product diagrams, pricing, large and small text, brand logos, serial numbers, etc. These ribbons are compatible with rough papers, coated papers and synthetic label materials.
Low print cost
Prints on all types of label materials
Perfectly legible printed barcodes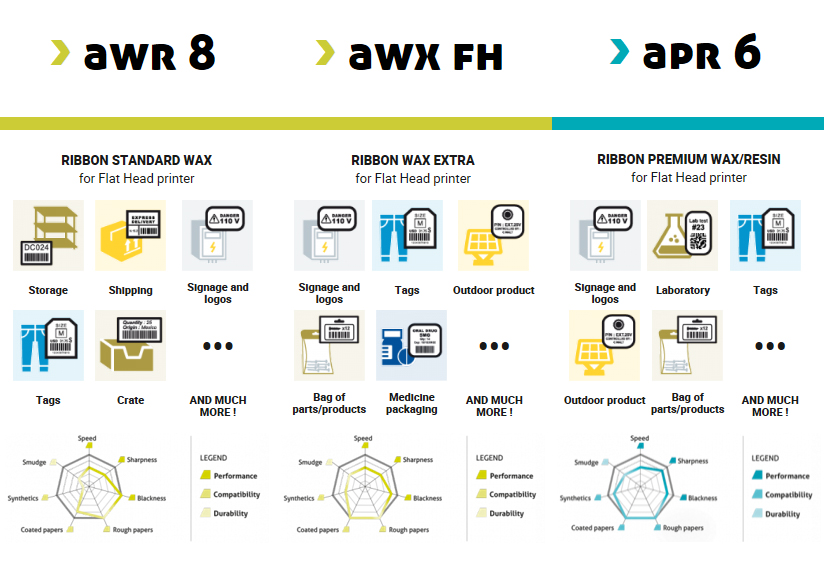 Transportation from ITW
Automotive, trucks, buses, airplanes, motorcycles, and recreational vehicles all use hundreds of thermal transfer ribbon/label combinations for just-in-time manufacturing, tracking and identification of each new vehicle. Applications for thermal transfer ribbons in the transportation market include: component labels, emission labels, parts tracking, certification labels, warranty labels, serial number plate labels, recall information, agency UL or CSA labels, aftermarket replacement parts and much more. Each application requires a specific ribbon/label combination that is durable enough to last the life of the vehicle and withstand a number of extreme conditions that it will be exposed to including: salt spray, brake fluid, battery acid, grease, high temperatures while also meeting a number of OEM label requirements. Typically resin ribbons are required.
Finding the right ribbon/label combination just got easier, with ITW Thermal Films Extreme Solutions™ program. Log on today to find the PrintheadSaver® thermal transfer ribbon that is designed for your specific transportation ribbon/label application.
PrintheadSaver® ribbons for warehouse applications include:
Extreme Series Midrange™ (ESM™) Wax/Resin Ribbons
Extreme Series Resin™ (ESR™) Ribbons
Our ribbons can meet the following certifications :
Food Contact Europe
RoHS
Halogens
Heavy Metals
Marine shipping (BS5609)
California Proposition 65
REACH/SVHC
Food Contact USA
Print durability (UL)
Drug Master File

LABEL TYPES & MATERIALS WE USE
3M Polyester
Ink Jet Receptacle
Recyclable Labels
A4 Laser Labels
Jet Gloss 90
Sheet Labels
Anodised Aluminium
Laser Labels
Sprocket Fed
Blockout/Blackout
Loop Tags
Tags
Clear laminates
Metallised Silver/Polyester
Tamper Evident
Clear PE
Oven Proof
Tactile
Clear PP
Paper Direct Thermal (Eco or Topcoat)
Tickets
Domed
Paper Thermal Transfer (Matt Vellum or Gloss)
Vinyl
Dot Matrix Labels
Polyester (PET)
Void
Fabric & Woven Labels
Polyethylene (PE)
Ultra Destruct
Fan Fold Labels
Polypropylene (PP)
Window Stickers
Fan Fold Tags & Tickets
PVC
Garden Centre Tags
Peel & Reveal
ADHESIVES WE USE
Acrylic based
High Tack
Ultra High Tack
Blockout / Blackout
Peelable
Ultra Low Tack
Chilled
Permanent
Void
Fastyre
Rubber Based
Water Resistant
Freezer
Tamper Evident
LABEL RESISTANCE SUPPLYLINE CAN OFFER
Chemicals
Handling
Scuff Proof
Extreme High Temperature
Moisture
Sea & Salt Water (BS5609 Standard)
Extreme Low
Outdoor Exposure
Solvents
Grease
Scratch Proof
UV Exposure
PRINTER & CODING RIBBONS SUPPLYLINE CAN OFFER
Coding Ribbons Colours
Full/Resin Ribbons
Coding Ribbons Full/Resin
Hot Foil Ribbons
Coding Ribbons Wax/Resin
Near Edge Wax/Resins Ribbons
Cold Stamping Ribbons
Near Edge Full/Resins Ribbons
Colour Ribbons (Primary & Metallic)
Premium Wax Ribbons
Chemical Ribbons (chemical resistant)
Standard Wax Ribbons
Enhanced Wax Ribbons
Washable Ribbons (Textile / Clothing Printing