Warehouse

Supplyline only offer the highest quality ribbons from the market leading manufacturers that include Armor, ITW Thermal Films, Inkanto, Richoh & Sony plus all the genuine branded ribbons from Zebra, Honeywell and Toshiba. This enables us to meet any ribbon requirement with the perfect grade or ribbon type ensuring not only perfect print every time but also the correct resistance or protection to last the life of the product or application.
Buy Printer & Coding Ribbons from Supplyline, one of the largest resellers of Printer & Coding Ribbons in the Industry, we sell at the most competitive price and carry by far the largest stock range in the UK.
Challenge us to save you money, improve your print quality and increase the life of your printer or printhead, we wont be beaten on price.
Ribbon Types and Applications for Warehouse
Shelf identification
Barcodes and other printed identification data on storage shelves help to ensure smooth logistics flows within the company. Thermal Transfer print technology is fully suited to the variety of storage constraints at different warehouses.
At a storage or order-fulfillment centre, shelf labels must be fully visible to operators and be able to be read with a high level of reliability by a barcode reader. This helps to identify storage locations and enhances both computerised stock management and the order-picking process.
Shelf label printing constraints
Certain print technologies are not suitable for high temperatures or high humidity and dust levels at storage locations. One badly printed or damaged label runs the risk of unproductive operator time, of being illegible to an optical reader and of generating stock reporting errors in the computer system.
Some warehouses are open to the outdoors, exposing the labels to attack from humidity, UV light and temperature variations. The storage of liquid products such as solvents may taint the label and damage the printed message.
All these factors must be taken into account when selecting the print solution.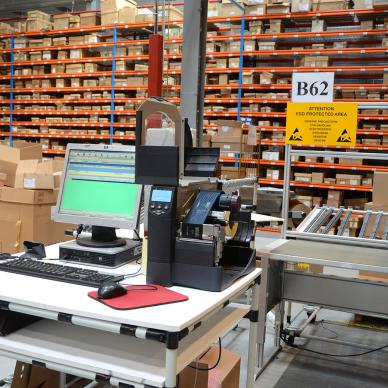 The Inkanto ribbons for printing shelf labels
Thanks to the robustness of its printing module, Thermal Transfer is a reliable solution which can be installed in close proximity to its place of use, directly in the warehouse, at the same time as offering low maintenance costs.
Inkanto Wax ribbons (AWR®/AWX® ribbons) offer a competitive solution for printing on entry-level paper labels generally used for storage shelving.
Should the particular storage constraints require resistance to abrasion, temperature and humidity, the Wax-Resin inks (APR®/APX® inks) in combination with coated paper labels are recommended.
And finally, for the most extreme conditions (such as the storage of corrosive liquids), synthetic labels should be used alongside a Resin ink (AXR® grades): a reliable solution offering durable protection of the printed matter.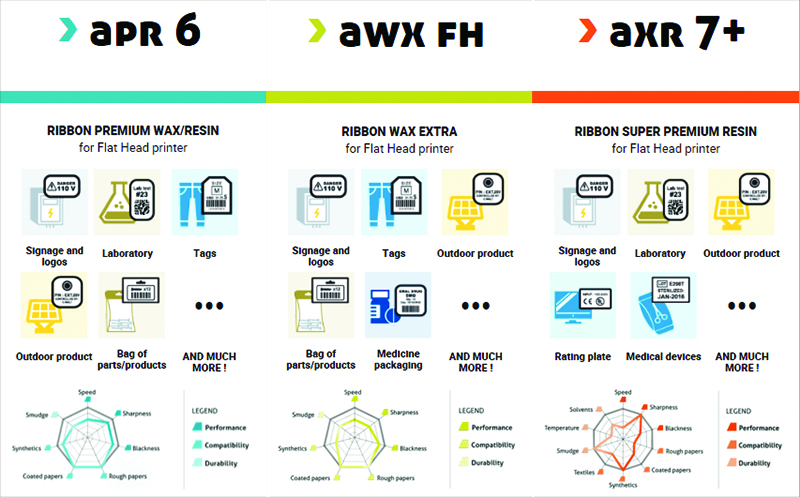 Low print cost
Suitable for all label and character formats
Perfect barcode legibility
Warehouse From ITW
Keeping track of goods through the entire warehouse distribution process is essential to control costs, increase productivity and improve customer satisfaction. Bar codes allow you to track goods at each stage as they are received, stored, moved and removed, and helps streamline your distribution, warehouse and logistics from the beginning to the end. Thermal transfer ribbons used in these types of applications need to remain readable and scanable in the most demanding environments as they are routinely exposed to dust, cold, heat, moisture, mild detergents and rough handling.
ITW Thermal Films Extreme Solutions™ can help you find the PrintheadSaver® thermal transfer ribbon that is designed for your specific warehouse label application.
PrintheadSaver® ribbons for warehouse applications include:
Extreme Series Midrange™ (ESM™) Wax/Resin Ribbons
Extreme Series Resin™ (ESR™) Ribbons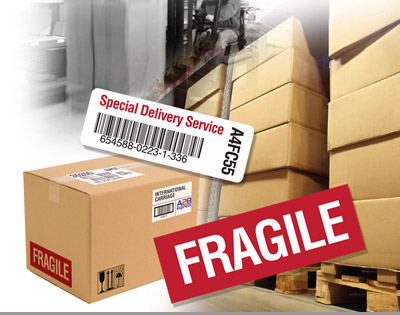 Our ribbons can meet the following certifications :  
Food Contact Europe
RoHS
Halogens
Heavy Metals
Marine shipping (BS5609)
California Proposition 65
REACH/SVHC
Food Contact USA
Print durability (UL)
Drug Master File

LABEL TYPES & MATERIALS WE USE
3M Polyester
Ink Jet Receptacle
Recyclable Labels
A4 Laser Labels
Jet Gloss 90
Sheet Labels
Anodised Aluminium
Laser Labels
Sprocket Fed
Blockout/Blackout
Loop Tags
Tags
Clear laminates
Metallised Silver/Polyester
Tamper Evident
Clear PE
Oven Proof
Tactile
Clear PP
Paper Direct Thermal (Eco or Topcoat)
Tickets
Domed
Paper Thermal Transfer (Matt Vellum or Gloss)
Vinyl
Dot Matrix Labels
Polyester (PET)
Void
Fabric & Woven Labels
Polyethylene (PE)
Ultra Destruct
Fan Fold Labels
Polypropylene (PP)
Window Stickers
Fan Fold Tags & Tickets
PVC
Garden Centre Tags
Peel & Reveal
ADHESIVES WE USE
Acrylic based
High Tack
Ultra High Tack
Blockout / Blackout
Peelable
Ultra Low Tack
Chilled
Permanent
Void
Fastyre
Rubber Based
Water Resistant
Freezer
Tamper Evident
LABEL RESISTANCE SUPPLYLINE CAN OFFER
Chemicals
Handling
Scuff Proof
Extreme High Temperature
Moisture
Sea & Salt Water (BS5609 Standard)
Extreme Low
Outdoor Exposure
Solvents
Grease
Scratch Proof
UV Exposure
PRINTER & CODING RIBBONS SUPPLYLINE CAN OFFER
Coding Ribbons Colours
Full/Resin Ribbons
Coding Ribbons Full/Resin
Hot Foil Ribbons
Coding Ribbons Wax/Resin
Near Edge Wax/Resins Ribbons
Cold Stamping Ribbons
Near Edge Full/Resins Ribbons
Colour Ribbons (Primary & Metallic)
Premium Wax Ribbons
Chemical Ribbons (chemical resistant)
Standard Wax Ribbons
Enhanced Wax Ribbons
Washable Ribbons (Textile / Clothing Printing