Warehouse Solutions

Supplyline either directly or through our partners supply a number of companies which their warehouse solutions, we have clients ranging from small 1 unit buildings to huge warehouse or distribution centres split across multiple sites and locations.
LABEL TYPES FOR WAREHOUSE FROM SUPPLYLINE ID
We offer a huge range and types of labels covering manufacturing, parts, distribution and the supplychain.
Storage & Warehousing Labels
Labels experience fluctuations in temperature and humidity when stored both indoors and outdoors. Over time, such conditions can damage the label and make them unreadable. Our label materials are specially developed for long-term storage and warehousing – helping to protect the information on the label even in all conditions. Talk to our warehouse team on selecting the right label materials for your application.
| | | |
| --- | --- | --- |
| Shelf labels | Aisle signs | Facility & safety signs |
| Bin location labels | Floor marking / coating | Pallet location markers |
| Bar code labels | Magnetic labels | Warehouse signage |
| Adhesive floor tape | | |
Pallet Racking Labels
Pallet racking labels are designed to identify shelf and rack locations in warehouses, and ours are manufactured from tough durable materials.
Our racking labels are the market leaders in design and performance. Choose from a wide range of variations, and request a quotation to get your warehouse identification to the highest possible standard.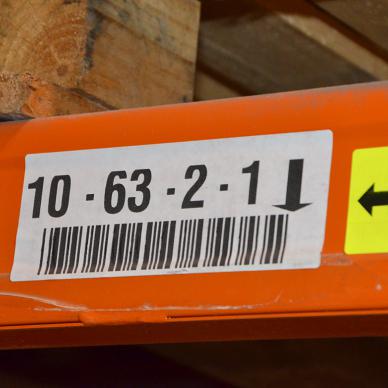 Silverback PO+ is a new label solution which can be adhered in all warehouse temperatures. Printed onto a blended polyolefin material – a blend of Polyethylene (PE) and Polypropylene (PP). The labels are specially coated to ensure maximum quality laser printing.
Magnetic Racking Labels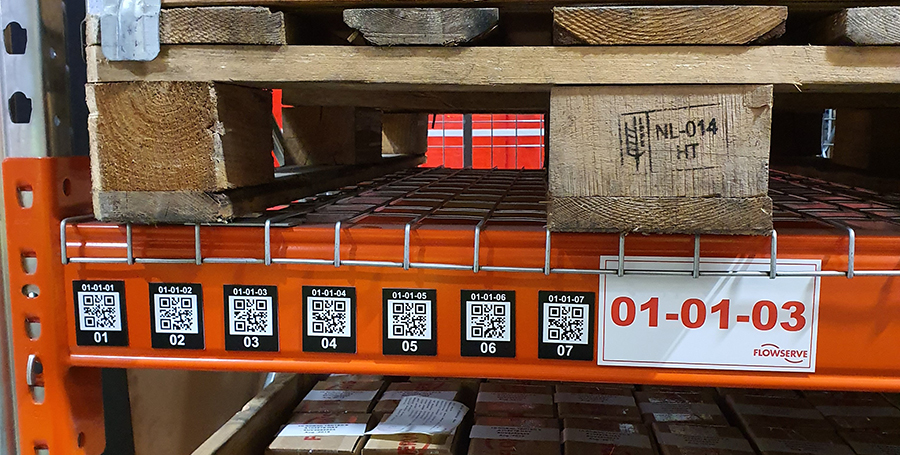 Storage or Location Bin Labels or Tags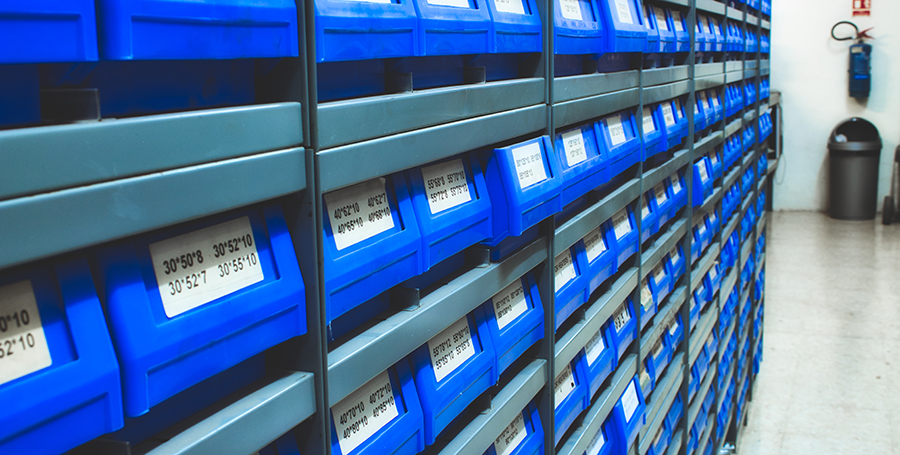 Working with our Warehouse Partner we can also offer a range of other products that include:
Aisle Markers
Our durable warehouse aisle markers are used throughout the industry to identify racking and shelving aisles which are essential in any fast moving storage environment.
A choice of sizes and colours are available.
Our signage using a specialist UV printing process, can provide a more corporate finishing touch to the labels by displaying your logo or other relevant information in mono or colour finishes.
This fantastic printing process enables Supplyline to offer a range of benefits, including better efficiency, reduced material usage, no damage on installation and, most importantly, carbon reduction and removal of PVC from our product range.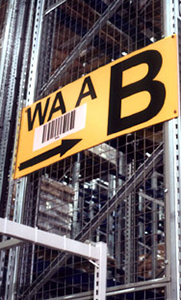 Warehouse Signs
Warehouse signage is one of the most important identification products in the fast moving storage environment, offering highly visual points of reference, even over large distances.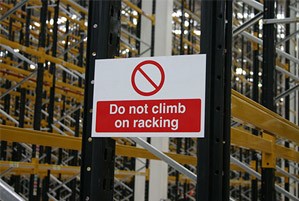 We supply a variety of different warehouse signage, for external and internal use, in various colours and materials to specific requirements.
Our product range includes aisle markers, hanging signs, safety signage and external signs.
Warehouse & Pallet Markers
Supplyline offer semi rigid warehouse and pallet markers in a range of shapes for immediate dispatch.
With minimal to no downtime, low cost, easy application and a durable service life, these features make semi rigid warehouse markers an excellent choice for increasing safety and productivity when marking out your facility.
Digits & Characters: Number sequences predominately used to identify a pallet location within a marshalling lane.
Internal or External Line Marking
Supplyline working with our Warehouse Partner provides a variety of different line marking preparation methods and paint systems, and can create any bespoke requirement for pedestrian walkways, pallet lanes, and hatched areas, maximising durability as well as cost-effectiveness.
Through our Warehouse Partner, they believe they are the only company in the UK to offer a complete line marking solution in-house, from conceptual design & planning through to installation that optimise customer operations and meets today's strict facility safety requirements.
Couple that with Supplyline's technical know how & hardware solutions for your warehouse like mobile terminals and barcode label printers we offer the very best complete solution you will find in the UK.
Design aspects are covered in consultation with the customer and then drawn so that working models can be discussed and approved prior to installation. Assistance with key issues will be discussed during site visits.
Additionally we offer a variety of other services. These include:
Full consultancy and planning;
Health & Safety Risk Assessment guidance;
Weekend & night installation available to minimise disruption to operations;
Resistance to a wide range of chemicals dependent on option chosen;
A range of preparation methods available for chosen level of durability;
Supplyline's line marking can be cleaned using conventional methods dependent on option chosen.
Supplyline "The Supply Chain Experts" can also be of use in the warehouse & distribution side of your operation, we can supply your plain / shipping labels, barcode printers, barcode scanners and warehouse terminals.
Keep your warehouse moving and your costs down, Supplyline also offer a fix & repair service for existing or old warehouse terminals and printers. This begins with free diagnostic testing for any number faults or issues with a full diagnosis with a cost of repair. All of our repairs carry our 90 day no fuss warranty.
LABEL TYPES & MATERIALS WE USE
3M Polyester
Ink Jet Receptacle
Recyclable Labels
A4 Laser Labels
Jet Gloss 90
Sheet Labels
Anodised Aluminium
Laser Labels
Sprocket Fed
Blockout/Blackout
Loop Tags
Tags
Clear laminates
Metallised Silver/Polyester
Tamper Evident
Clear PE
Oven Proof
Tactile
Clear PP
Paper Direct Thermal (Eco or Topcoat)
Tickets
Domed
Paper Thermal Transfer (Matt Vellum or Gloss)
Vinyl
Dot Matrix Labels
Polyester (PET)
Void
Fabric & Woven Labels
Polyethylene (PE)
Ultra Destruct
Fan Fold Labels
Polypropylene (PP)
Window Stickers
Fan Fold Tags & Tickets
PVC
Garden Centre Tags
Peel & Reveal
ADHESIVES WE USE
Acrylic based
High Tack
Ultra High Tack
Blockout / Blackout
Peelable
Ultra Low Tack
Chilled
Permanent
Void
Fastyre
Rubber Based
Water Resistant
Freezer
Tamper Evident
LABEL RESISTANCE SUPPLYLINE CAN OFFER
Chemicals
Handling
Scuff Proof
Extreme High Temperature
Moisture
Sea & Salt Water (BS5609 Standard)
Extreme Low
Outdoor Exposure
Solvents
Grease
Scratch Proof
UV Exposure
PRINTER & CODING RIBBONS SUPPLYLINE CAN OFFER
Coding Ribbons Colours
Full/Resin Ribbons
Coding Ribbons Full/Resin
Hot Foil Ribbons
Coding Ribbons Wax/Resin
Near Edge Wax/Resins Ribbons
Cold Stamping Ribbons
Near Edge Full/Resins Ribbons
Colour Ribbons (Primary & Metallic)
Premium Wax Ribbons
Chemical Ribbons (chemical resistant)
Standard Wax Ribbons
Enhanced Wax Ribbons
Washable Ribbons (Textile / Clothing Printing
Our ribbons can meet the following certifications :
Food Contact Europe
RoHS
Halogens
Heavy Metals
Marine shipping (BS5609)
California Proposition 65
REACH/SVHC
Food Contact USA
Print durability (UL)
Drug Master File