Zebra TC52X HC Mobile Computer – new release
The Most Advanced Purpose-built Enterprise Solution for Healthcare
Now stocking – click here for the TC52X and accessories
The TC52x-HC represents the most advanced purpose-built enterprise solution for healthcare. Featuring Zebra technology, software and services, the enterprise TC52x-HC offers the full suite of Mobility DNA solutions that deliver a performance edge and better patient care for clinicians.
Built with medical grade plastics and designed to thrive in healthcare environments, the TC52x-HC mobile computer can perform all tasks, including accessing electronic health records, clinical collaboration, secure texting/messaging and data capture, through one device without compromising on patient privacy or data security.
Designed with healthcare grade materials, the TC52x-HC allows continuous cleaning and disinfecting throughout multiple shifts every day with over 30 cleansers that are used in hospitals today to protect against Healthcare Associated Infections (HAIs).
The TC52x-HC is compatible with all TC52-HC accessories.
Features:
Best-in-class, disinfectant-ready design – The TC52x-HC features chemical resistant healthcare plastics that can withstand regular cleaning with over 30 disinfectants. The housing is designed to minimize crevices where bacteria can hide
The ultimate in value-add features – Zebra Mobility DNA With Zebra's powerful Mobility DNA suite, healthcare workers get more value out of their mobile computers with added functionality as well as simplified deployment and management of their mobile devices, driving productivity and device control to a new level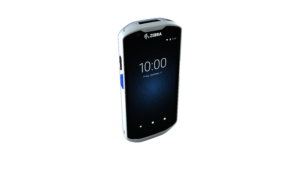 Easily find misplaced devices – An integrated Bluetooth beacon and support for Device Tracker allows users to locate misplaced or missing devices quickly and easily – even if the TC52x-HC is turned off or has a fully discharged battery
An advanced scan engine for the fastest, easiest data capture – Get the new integrated SE4720 enterprise-class imager for lightning fast capture of 1D/2D barcodes and labels. The new imager, with white illumination LEDs and green aimer, makes scanning barcodes on uneven surfaces, tubes, medical bags, color-coded specimen trays and biopsy cassettes easier
Healthcare red alert/duress button for rapid response – The TC52x-HC features a healthcare alert button. In the event of an emergency, staff can call for help with a split-second press of this programmable key
Full shift power healthcare workers can count on – The PowerPrecision+ high capacity battery delivers an impressive 14 hours of power – plenty for the longest shift. With Hot Swap mode, swapping batteries is fast and easy and there's no need to turn off the device or close active apps