Are you prepared for Natasha's Law?
Natasha's Law comes into effect from 1st October 2021 in England, Wales and Northern Ireland.  This legislation will require food businesses to provide full ingredient lists and allergen labelling on foods prepackaged for sale.  Here is a guide to allergen labelling requirements with examples of how to label your products.
A minimum font size where the x-height is 1.2mm or more must be used where a labelling surface is 80cm2 or more
A minimum font size where the x-height is 0.9mm or more must be used where the labelling surface is less than 80cm2
Where the food packaging or container's largest surface area is less than 10cm2 (eg. a single portion sachet of sauce), the ingredients list can be omitted, provided that the ingredients information is provided by other means or made available at the consumer's request.
Allergens need to be emphasized from other ingredients within the ingredients list by means of contrasting font, size, style or background colour. Eg. 'INGREDIENTS: Oatmeal, sunflower oil, prawn (crustacean)'.
The source of allergens for each ingredient needs to be declared even if there are several ingredients from the same allergenic food.
What are the 14 main Allergen groups?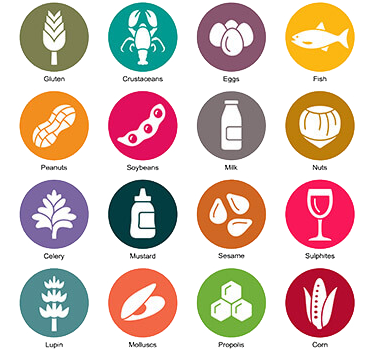 celery
cereals containing gluten – including wheat (such as spelt and Khorasan), rye, barley and oats
crustaceans – such as prawns, crabs and lobsters
eggs
fish
lupin
milk
molluscs – such as mussels and oysters
mustard
tree nuts – including almonds, hazelnuts, walnuts, brazil nuts, cashews, pecans, pistachios and macadamia nuts
peanuts
sesame seeds
soybeans
sulphur dioxide and sulphites (if they are at a concentration of more than ten parts per million)
How to list allergens on your product – an example:
Ingredients: Water, Carrots, Onions, Red Lentils (4.5%) Potatoes, Cauliflower, Leeks, Peas, Cornflour, Wheat flour, Salt, Cream, Yeast Extract, Concentrated Tomato Paste, Garlic, Whey (Milk), Sugar, Celery Seed, Sunflower Oil, Herbs and Spice, White Pepper, Parsley
Allergenic ingredients must be declared with a clear reference to the allergen:
Allergenic ingredients must be declared with a clear reference to the allergen to ensure clear and uniform understanding.
Examples of ingredients that need to be clearly referenced to the allergen:
tofu (soya)
tahini paste (sesame)
whey (milk)
Examples of allergen advice statements:

You can use Allergen advice statements on the product label to explain how allergen information is presented.
For example:'
Allergen Advice: for allergens, see ingredients in bold'
'Allergen Advice: for allergens including cereals that contain gluten see ingredients in red'
For alcoholic drinks with no ingredients list, allergens can be indicated by the word 'contains' followed by the name of the allergen.
Precautionary allergen labelling:
If there is a risk of a food product being affected by allergen cross-contamination, the label should include one of the following statements:
may contain X
not suitable for someone with X allergy
Please note:-
Only use precautionary allergen labelling after a thorough risk assessment;
Use precautionary allergen labelling only if the risk of allergen cross-contamination is real and cannot be removed.
Language on the label:
Label your product with language that is appropriate to the destination country for your food product.  This will ensure that your product label is easy to understand.  If you are selling food products in the UK, the labelling information must be in English.
Need help with allergen labelling?
At Supplyline ID, we have supplied millions of labels all over the world and can offer expert advice and a bespoke service for all your labelling requirements.
Contact us with your allergen labelling requirements!