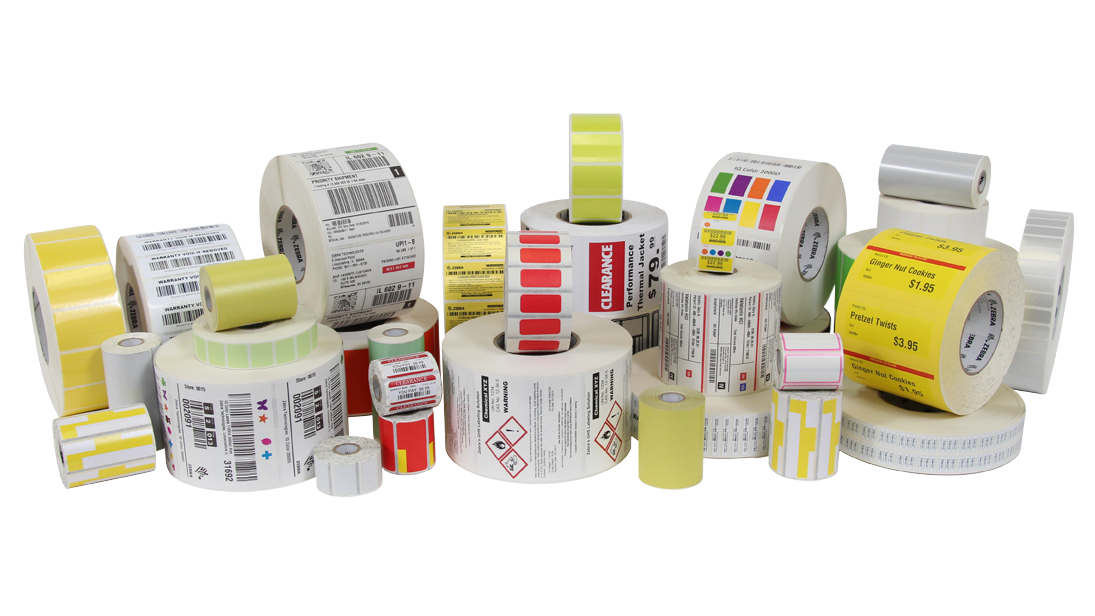 Labels
Buy labels, stickers and tags online from Supplyline Auto ID UK.  Browse the options below to find the best label and tag solution for you or your business, sector or industry.  We have labels for virtually every application or purpose.  Can't find what you need?  Contact our expert sales team for help and advice on the best type of label for you or your business.  Or call us on 01403 865 111 to help you place a label order online.
With over 20 years' experience of supplying labels and tags, we are a complete in-house label printing service.  Our expert Art & Design team can provide you with a bespoke labelling solution to fit your requirements including full in-house design and print services.
We supply millions of labels EVERY WEEK throughout the UK and Europe from our fully ISO-accredited facilities, ensuring the best prices and lead times.
Multiple Formats Available:
Choose from our huge selection of barcode labels, self-adhesive labels on rolls and laser labels.  Buy printed and plain labels of any shape, size or colour.  Our sales team provides a quick quote and fast turnaround – in fact we pride ourselves as being one of the best in the industry for both!
We offer up to 8 colour printing with UV or standard inks; we have over 3000 stock cutters in all shapes and sizes so we should be able to save you money on new tooling.  Our bespoke full art & design service assists you from the ground up and we will help you through all stages of labelling.  In addition, we have full Digital Print giving you extremely high quality, full colour labels in small and medium quantity runs, without the need for art & design plates, giving you total freedom with your designs.
Different Label Materials Available:
Supplyline Auto ID can provide all materials for labels from standard paper to polyethylene, polyester, polypropylene and vinyl.  In addition, we can offer durable label materials like 3M for special and demanding applications.  If you need Plants Tags, Textile Clothing labels, Metallised Polyester, Anodised Aluminium and Domed labels, we have you covered.  We provide all adhesive types from Perm, Peel, Chilled and deep freeze.  We also offer specialised adhesives for Tyres, Sea Water, extreme high temperatures, CryoCool and many more.