Axicon 7015 Barcode Verifier with IP50 Protection
£3,885.00 inc VAT£3,237.50 excl VAT
USB 2 Connectivity, IP50 Rated, Scan width 195 mm (including quiet zones). Wavelength of light 660 nm. Weight: 1kg. Size: 215 x 120 x 125 mm.
Delivery time: Call for lead-time
Axicon 7015 Linear (1D) Industrial Barcode Verifier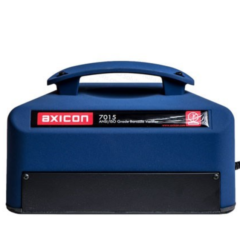 View Details
The Axicon 7015 barcode verifier is also available with a choice of two IP ratings. As defined by standard IEC 60529, the IP50 version protects against all harmful dust particles, while the IP65 version is totally dust-tight and sealed against low pressure water spray from all directions.
The verifier is designed to verify large linear barcodes with a maximum width (including quiet zones) of 195 mm. This means it can be used to check all barcodes used in general distribution, whether they appear on outer cases or on pallet labels (EAN-13, UPC-A, ITF-14 and GS1-128). For anyone printing 100% sized ITF-14 symbols, or A5 or larger pallet labels, this verifier is perfect.
The 7015-IP50 is suitable for a dusty environment such as fibreboard packaging handling.