Datalogic Gryphon GM4200, 1D, kit (USB), black

£352.27 inc VAT£293.56 excl VAT
Datalogic Gryphon GM4200, 1D, kit (USB), black
Delivery time: Call for lead-time
Datalogic Gryphon 4200 Series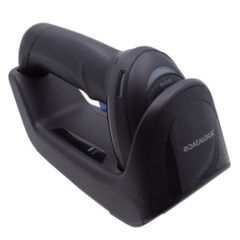 View Details
The Gryphon 4200 series is a 1D hand held corded and cordless scanner.
It provide class leading reading performance capturing barcodes from near to far, and can read high-density and low resolution code, alongside hard to read, poor or damaged codes. To keep up with the latest technologies it can also read barcode from mobile devices.
Ideal for hand held reading, the Gryphon 4200 uses Datalogic's Motionix™ motion-sensing technology which detects the natural actions of the operator to automatically switch the scanner into the 'ready-to-read' scanning mode.
Datalogic's distinctive 'soft line viewfinder' helps operator to easily target the code to be read, making easier and faster to point, shoot and decode exactly the proper label, reducing accidental reads in a multiple bar code situation.
Featuring Bluetooth® 4.0 wireless technology (GBT models) or narrow band radio communications with Datalogic's STAR Cordless System™ (GM models), the Gryphon 4200 wireless readers provide maximum flexibility to solve any application with the best technical solution.
A new innovation that the Gryphon 4200 wireless scanners exploit is the battery recharge through an inductive charging system, which enhances the reliability of the entire solution, lowering the total cost of ownership because it eliminates the need for contacts' cleaning and maintenance. The new WLC4190 cradle is ideal for solutions where small size and reduced footprint are required and is fully compatible with the Gryphon 4500 wireless series readers.
The new Gryphon 4200 Series scanners have 'disinfectant ready' enclosures and can be cleaned also with the harsh chemical agents typically used in the hospitals.
Key Features
Enhanced linear imaging technology for superior scanning and depth of field.
Datalogic distinctive 'Soft line viewfinder' to easily target the code to be read.
State of the art USB type C connectivity
Choice of Bluetooth wireless technology or Datalogic's STAR Cordless System
Wireless battery charging system
WLC4190 sleek desk/wall cradle (compatible with Gryphon 4500 series)
Disinfectant Ready enclosures resistant to harsh chemical cleaning

Typical Applications

Retail: Point of Sale (food and non-food)
Commercial Services: Postal, Banks, Public Administration, Utilities
Light Manufacturing: Work-in-Progress, Order Processing
Healthcare: Laboratories, Pharmacies
Access Control: Ticketing and Entertainment

s