Voyager 1450G, USB kit, omnidirectional, ivory – DISCONTINUED

£252.53 inc VAT£210.44 excl VAT
USB Kit: Omni-directional, 1D, PDF, 2D, ivory scanner (1450g2D-1), USB Type A 1.5m straight cable (CBL-500-150-S00)
Delivery time: Call for lead-time
Honeywell Voyager 1450G Barcode Scanner - DISCONTINUED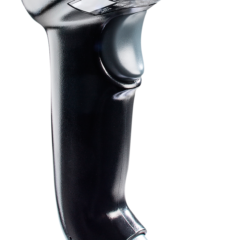 View Details
The Honeywell Voyager™ 1450g (wired) handheld barcode scanner initially comes as a 1D version, but as your data capture needs evolve, you can affordably upgrade to scan PDF and 2D barcodes too.
With the Voyager 1450g (wired) and 1452g (wireless) upgradeable scanners, you can embrace area-imaging technology at your own pace, and in the most cost-effective way.
These omnidirectional scanners equip you to scan 1D, linear barcodes and affordably upgrade to add PDF and 2D barcode scanning – either at the time of purchase or as data capture needs evolve.
Benefit from omnidirectional reading of virtually all linear barcodes, even poor quality and mobile codes.
Unlike traditional laser scanners, the 1D version of this barcode scanner can read barcodes omnidirectionally. That makes it ideal for hands-free presentation scanning.
Scans coupons, mobile tickets and digital wallets from the screens of mobile devices.
Provides an affordable upgrade path to 2D scanning at any time. A simple software license upgrade is all it takes.
Choose a tethered connection or the added freedom of wireless scanning up to 10 m (33 ft) from the base.