Voyager 1202g Scanner only: 1D, ivory

£242.18 inc VAT£201.82 excl VAT
Scanner only: 1D, ivory, RS232/USB/KBW/IBM, Bluetooth 10m
Delivery time: Call for lead-time
Honeywell 1202g Voyager Wireless Single-Line Laser Barcode Scanner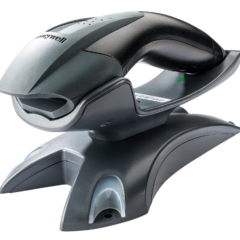 View Details
The Voyager™ 1202g laser barcode scanner aggressively scans virtually all linear barcodes, and does an exceptional job on poor quality or damaged barcodes and give the user the flexibility of using in hands-free or handheld formats.
Decode poorly printed, smudged, faded and other difficult-to-read barcodes with ease.
Scan high-density barcodes, too, with resolution down to 3.5 mil. In most cases, that eliminates the need to purchase specialty scanners.
The design of the Voyager™ 1202g decreases user downtime and service costs.
Single shock-mounted PCB delivers greater impact resistance.
Recessed button is protected by an integrated rubber co-mold that minimizes the impact of accidental drops.
Designed with a protected, scratch-resistant glass window and an IP42-rating.
The wireless model incorporates a Bluetooth® Class 2 radio. You will have unrestricted movement up to 10 m (33 ft) from the base, and up to 30 m (100 ft) with a clear line-of-sight between scanner and base.
Key Features
Bluetooth & Wireless Technology: Facilitates scanning of all standard 1D barcodes 10 metres (33 feet) or more away from the base,  depending on the users environment
Long Battery Life and  Tool-Free Battery Removal: The user-preferred Lithium ion battery  provides 12 hours or more of use, depending on scanning volume, and the  field-replaceable battery can be exchanged quickly and easily, without
the use of tools
Excellent Poor Quality Code Reading: Increases throughput and reduces the potential for hand-keyed errors by quickly
scanning a variety of 1D barcodes, including those that are damaged or smudged
Paging Functionality: Simply press the button on the  base to locate your lost laser barcode scanner; Voyager 1202g responds with a series  of beeps and blinking lights on its indicator panel
Remote  MasterMind Ready: Reduces total cost of ownership by providing a  turnkey remote device management solution that easily manages and tracks usage of installed devices