PowerScan™ PBT9500, High Performance/Liquid Lens, Removable Battery – DISCONTINUED

£0.00 inc VAT£0.00 excl VAT
PBT9500 High Performance/Liquid Lens, Removable Battery
Delivery time: Call for lead-time
Datalogic PowerScan™ PBT9500 Industrial Barcode Scanner - DISCONTINUED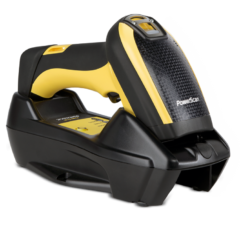 View Details
The PowerScan 9500 family of barcode scanner is suitable for all applications in Warehousing, Transportation & Logistics and Manufacturing.  The omnidirectional reading capability combined with the snappiness and depth-of-field features allow the PowerScan 9500 imagers to be faster and therefore, a preferred solution over standard laser-based scanners.
The PowerScan PBT9500 2D barcode scanner is equipped with Bluetooth® 2.0 wireless communications that enhances operator efficiency and safety.
Available with either Standard optics for high reading performance and speed on standard resolution codes, or advanced High Performance optics for high resolution bar code reading capability, wide angle image capture and higher depth of field. The PBT9500 imagers offer the 3GL™ (Three Green Lights) technology and are equipped with a white illumination LED.
A new aiming system consists of a central cross and four dots in the corners.  This will clearly identify the captured area and allows intuitive and fast scanning.
Features
Snappy, omnidirectional reading
Intuitive aiming system
Soft white light illumination
Bluetooth 3.0 Compliant; Class 1 configurable software
Datalogics Motionix motion-sensing technology
Ergonomic shape
Image Capture
Datalogics 3GL (3 Green Lights) technology and loud beeper for good-read feedback
EASEOFCARE Service Plans offer a wide range of service options to protect your investment