PowerScan PM9100, 433 MHz, Linear Imager, Display/4-Key, RB

£644.16 inc VAT£536.80 excl VAT
PowerScan PM9100, 433 MHz, Linear Imager, Display/4-Key , RB 
Delivery time: Call for lead-time
Datalogic PowerScan PM9100 1D Industrial Barcode Scanner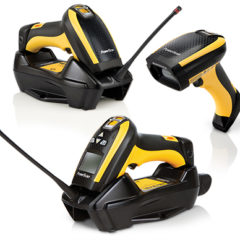 View Details
The PowerScan PM9100 industrial barcode scanner is a cordless device offering state-of-the-art performance in an industrial product and features Datalogic's STAR Cordless System™ narrow band radio. This linear imager introduces Datalogic's new and innovative scanning technology, implementing a green scanning line which has the same definition of a laser beam with all the benefits of a linear imager.
The PM9100 industrial barcode scanner also features Datalogic's exclusive 3 Green Lights (3GL™) for superior good read feedback..
The PM9100 linear imager is available in 3 models: a basic model with no display or keypad; with display and 4-key keypad or with display and full alphanumeric keypad. All models have multi-interface capabilities featuring the most popular interfaces; RS-232, Keyboard Wedge and USB.
Features
Point-to-point and multi-point transmission; Seamless roaming
IP65 rating and 2.0 m / 6.6 ft drop resistance
Datalogic new and innovative linear imager technology
Compatible with Datalogic's STAR Cordless System; Radio frequencies include 433 or 910 MHz
Front window replaceable in-field and user replaceable Lithium-Ion battery
Available in 3 models: Basic; With Display and 4-Key Keypad; With Display and Full Alphanumeric Keypad