PowerScan PM9300, AR, RS-232 Kit, 433MHz, Removable Battery

£840.83 inc VAT£700.69 excl VAT
PowerScan PM9300, Auto Range, RS-232 Kit, 433MHz, Removable Battery (Kit inc. PM9300-AR433RB Scanner, BC9030-433 Base, EU Power Brick/Cord, CAB-433 Cable.)
Delivery time: Call for lead-time
Datalogic PowerScan PM9300 Laser Industrial Barcode Scanner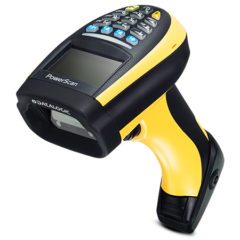 View Details
The PowerScan™ PM9300 industrial barcode scanner series includes different models able to satisfy all customers' needs; the PM9300 is the basic cordless model, the PM9300-D intermediate model includes a display and 4-key keypad, and the ultimate PM9300-DK model features a display with a full 16-key keyboard. The PM9300-DK model significantly increases the sophistication of interaction with the host system and opens up new potential uses of the scanner, making it suitable for applications that would normally require a more expensive portable data terminal.
Narrow band radio communications with Datalogic's STAR Cordless System™ 2.0 provides the key to increased productivity and flexibility in the workplace.
The PM9300 industrial barcode scanner features Datalogic's exclusive 3 Green Lights (3GL™) for superior good-read feedback. The patented 'Green Spot' technology provides visual confirmation directly on the code and dual Good Read LEDs on the top and back of the cap add increased visibility at any angle.
Features
Drop resistance to 2.0 m / 6.5 ft
Point-to-point and multi-point transmission
Optics available in: Standard Range: contact up to 1.6 m / 5.2 ft Auto Range: up to 11.5 m / 37.0 ft on reflective codes
Ethernet Connectivity (Standard and Industrial) Seamless roaming
Datalogic 3GL™ and loud beeper for good-read feedback Radio frequencies available in 433 or 910 MHz
100% Compatible with Datalogic's STAR Cordless System