Honeywell Orbit HF680, 2D, multi-IF, kit (RS232), UK, white – DISCONTINUED

2D, multi-IF, kit (RS232), UK, white
Honeywell Orbit HF680 2D Hands-free Area-Imaging Scanner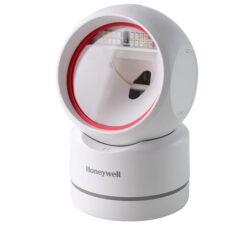 View Details
Honeywell Orbit HF680 is a 2D hands-free/presentation scanner that is the perfect blend of affordability, performance, and style. Retailers no longer have to compromise their budgets to get scanning performance in a modern design. And it's perfect for customers looking to upgrade their 1D Orbit 7120s scanners to 2D.
The Orbit HF680 features advanced area-imaging technology, so customers will zip through the checkout line with its lightning-fast scanning. The scanner quickly reads both 1D and 2D barcodes, digital barcodes from cellular phones and smudged or damaged barcodes.
And the Orbit HF680 minimizes checkout delays by quickly scanning traditionally difficult to read digital barcodes and even damaged barcodes.
The HF680s scanning is not only fast, it's also unobtrusive. The low profile, recessed LED lights in the scan window light up barcodes without irritating your customers. And when the scanner is not in use, it's lighting will automatically turn off.
Primarily a presentation style scanner, the scanner's unique shape allows for operators to comfortably pick up the scanner to easily scan large, bulky items. For added flexibility, the scanning head can be tilted up or down for faster and easier scanning of various sized or shaped products.
*Faster Scanning
*Simplify Scanner Integration
*Modern Styling with Great Price
PHYSICAL
Dimensions (L × W × H)
85 mm × 88 mm × 139 mm
Weight
278 +/-10g
ELECTRICAL
Input voltage
5 VDC ±0.5V
Working
2.0 W (400 mA @ 5V)
Standby
0.85 W (170 mA @ 5V)
Host interface
USB, RS-232
ENVIRONMENTAL
Operating temperature
-10°C to 40°C (14°F to 104°F)
Storage temperature
-40°C to 60°C (-40°F to 140°F)
Humidity
0% to 95%RH, no condensation
Drop
Designed to withstand 1 m drops
Illuminance
0-100,000 Lux
SCANNING PERFORMANCE
DPI
1280 × 800 pixel
Motion tolerance
Up to 2.5 m/s for 13 mil UPC at optimal focus
Scan angle
Horizontal: 47°; Vertical: 30°
Print Contrast
20% minimum reflectance difference
Pitch, Skew
+/-60°, +/-70°
Decode Capability
Reads standard 1D, PDF, 2D Symbologies
Note: Decode capabilities dependent on kit configuration.
Warranty
3-year factory warranty