QuantumT 3580, RS232 Kit: light gray scanner – DISCONTINUED
RS232 Kit: light gray scanner (MS3580-41-7), standard square weighted base (70-74588), 2.9m (9.5') straight RS232 cable (59-59000-3), EU power supply (46-00526) and documentation
Honeywell QuantumT 3580 Multi-Positioning Hands-Free Barcode Scanner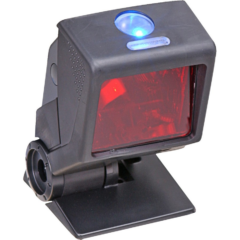 View Details
The Honeywell QuantumT 3850 omnidirectional hands-free barcode scanner comes with a protective exterior boot, and features an optional single line scanning mode, allowing you to select the required barcode from a list.
1,650 scan per second are produced in the omnidirectional mode, increasing productivity. The 3850 hands-free barcode scanner can be mounted on a countertop, wall, stand or used as a hand held scanner, giving the user a variety of options to suit their particular requirements.
Key features
• Fully automatic scanning operation
• Single-line mode for menu reading
• Easy mounting integration
• Custom configurable scan pattern
• User-replaceable, single cable interface to host
• Decoding of all standard 1D, RSS-14, RSS Limited and expanded RSS bar codes
• OPOS and JPOS system compatible
• Small Footprint: Keeps valuable counter space clear.
• Omnidirectional or Single-Line Modes: Alternate between 20 scan lines for omnidirectional hands-free barcode scanning and a single scan line for menu scanning.
• Optional Stands: Customize the height of the scanner for unique applications.