CN80-L1N-2EC210E, Qwerty, Extended range, WLAN, Android GMS, no camera, cold storage

£2,295.20 inc VAT£1,912.67 excl VAT
CN80 / 3GB / 32GB / QWERTY / 6603ER Extended Range Imager / No Camera / 802.11abgn,ac / WLAN / Bluetooth / Android GMS / Client Pack / Cold Storage / ETSI/WWMode
Delivery time: 2 - 4 days
Honeywell Dolphin CN80 Mobile Computer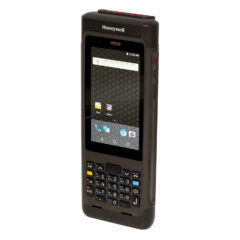 View Details
The Honeywell Dolphin™ CN80 mobile computer is Android™-compatible and features full-touch capabilities plus real keys for fast data entry at high transaction rates even in severe settings. The Dolphin CN80 is also an Android Enterprise Recommended device, meaning it's rugged, built to deploy easily in the field, and built to stay up to date over a long-life span.
The Dolphin CN80 mobile computer offers both a large 4.2-inch vivid colour touchscreen and a choice of numeric or QWERTY keypads, allowing users to pick the best input method for their environment, plus it features fast data processing and 1D/2D scanning, advanced network connectivity, and advanced battery life lasting twice as long as previous versions.
Mobility Edge™ Hardware and Software Platform: Common hardware and software platform delivers enhanced operational efficiency and reduced TCO. Deploy the same applications on multiple products across your enterprise.
Forward-Compatible. Future-Proof: As an Android Enterprise Recommended device you'll have support for five versions of the Android OS. This lets you manage enterprise mobility with less cost and less risk than in the past.
Best of Both Worlds – Keys and Touchscreen: If you have high transaction rates, an environment where workers wear gloves, or applications or workers accustomed to working a certain way, keys are a necessity. The Dolphin CN80 offers productivity with a real numeric or QWERTY keypad for fast and easy data entry plus a full touchscreen for new or future application migration.
Unparalleled Scanning Performance: Enhanced 1D/2D scanning/data capture options with read ranges of 0.15 m to 15.2 m (6 in to 50 ft) typically required in today's warehouses. Optional scan handle for flexibility to switch between handheld and pistol grip operations.
Rugged, Ergonomic Design – Built to Last: Designed to withstand the harshest environments and the toughest users, the Dolphin CN80 minimizes downtime and lost productivity with extreme longevity. Withstands 3.0 m (10 ft) drops to concrete per MIL-STD 810G and 2,000 1.0 m (3.3 ft) tumbles. IP65/IP67 ratings against dust/water spray and even immersion. Cold storage and non-incendive options available.
Long Battery Life Drives Productivity: Long shifts, extended talk-times, and heavy GPS usage are no match for the Dolphin CN80. Long battery life minimizes workflow interruptions and drives efficiency.