Joya™ Touch, Demo kit – DISCONTINUED

JOYA TOUCH Demo Kit 1, Simple (JT Plus Pistol Grip Blue + microUSB Cable) 972.00
Joya™ Touch Handheld Computer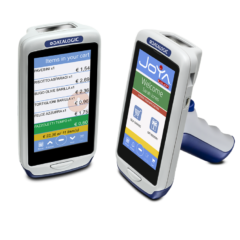 View Details
The Joya Touch multi-purpose handheld computer allows consumer facing applications to be resident on the same device as operational applications.
With two form factors available (handheld and pistol-grip), retailers can deploy device configurations to match their applications. Changing from one form to the other is quick and easy.
The Joya Touch device comes with several innovative features such as the industry's first wireless charging technology eliminating maintenance and cleaning of contacts on the device and cradles, fast charging mode and Datalogic SoftSpot™ technology for an easy-to-use soft trigger.
Packed with technology, this device supports Beacons for hyper-localized content, promotions and location sensing. This unique handheld device can connect a wide range of wireless peripheral devices such as printers and any other devices using the serial profile.
The Joya Touch handheld computer can be personalized by the user in several ways: by changing the color of the upper case and battery cover or even changing the front logo. Additionally, it is possible to order personalized screen protectors with corporate colors and themes or sell as sponsored advertising by consumer goods manufacturers.
Features
• 4.3 inch FWVGA and QVGA display
• 2D imaging technology
• Wireless charging with 'Boost Mode' and versatile locking 3 bay cradle
• Datalogic SoftSpot technology for innovative triggering through touch display
• Vibration feature to inform users
• Multi-purpose device: handheld or pistol-grip options