WAP4 Long alpha numeric, RFID UHF Linear antenna FCC/IC, 2D imager SE4500 slim pod – DISCONTINUED
WAP4 LONG ALPHA NUMERIC, WEHH 6.5.3, ENGLISH, RFID UHF LINEAR ANTENNA FCC/IC, 2D IMAGER SE4500 SLIM POD, 802.11A/B/G/N, BT3.0WBAHFP1.6, 4400MAH
Zebra Workabout Pro4 Long Mobile Computer - DISCONTINUED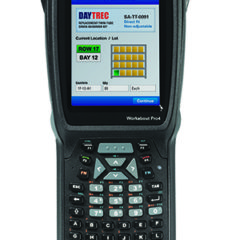 View Details
The Zebra Workabout Pro 4 mobile computer is a modular, industrial hand held computer available in 2 form factors Long or short. A variety of lasers, imagers, RFID LF, HF, UHF, and radio options are available.
The Workabout Pro 4 boasts impressive modularity that lets users buy the features they need now, yet easily add practically any feature, right in their own facility. Start with Wi-Fi and add WWAN. Swap scan engines to support new types of bar codes. Swap end caps to add support for voice picking applications and just about any type of RFID tag. Add a high-resolution camera to document proof of delivery, just by swapping the back cover of the device. A large portfolio of ready-to-use modules developed by Zebra partners is available to meet the highly specialized needs of diverse vertical markets.
Built to handle all day use indoors and outside, with a choice of a short and long model, plus an optional pistol grip that workers can attach when needed, the Zebra Workabout Pro 4 has the flexibility to choose the model that will bring the most comfort to the job.
Wi-Fi and cellular connections, 802.11a/b/g/n and HSPA+, let workers count on the fastest speeds possible for superior application performance, no matter where they are.
Innovative Features of the Zebra Workabout Pro 4 Mobile Computer
Impressive modularity for an extraordinary life cycle and a low TCO
Boost productivity with superior application performance
Comprehensive support for voice-enabled applications
Industry leading scanning performance on virtually any bar code
Backwards compatibility with accessories