SH21, Capacitive touch, 110/230 VAC 60W, i5 processor; 16GB RAM, 32 GB SD Flash OS:Win7
£4,561.08 inc VAT£3,800.90 excl VAT
21″ Blackline Capacitive touch, 110/230 VAC 60W, i5 processor; 16GB RAM, 32 GB SD Flash, 802.11a/b/g/n, WIFI BT4.0, OS:Win7
Delivery time: Call for lead-time
Datalogic SH21 Blackline fixed mount rugged computer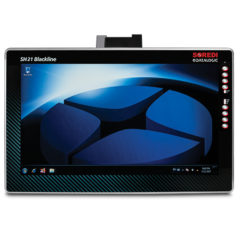 View Details
The SH21 Blackline rugged computer is an industrial computer designed for wall or fixed mount industrial applications.
A sealed design tested to IP65/IP67 ensures operation for both computers in the toughest environments. The Capacitive Touchscreen features a 3 mm anti-glare armored glass which can be used even when wearing gloves.
Additionally, lue, the SH21 Blackline rugged computer with its slim and light chassis contains either an energy saving Intel® Quad-Core or Intel® Core i5-processors.  A high efficiency 110/230 VAC internal power supply is available for this product.
Operating systems are either Windows® Embedded Standard 7 or Windows® 10 IoT Enterprise operating tems.
Features
Windows® Embedded Standard 7 or Windows® 10 IoT
Great protection against dust and moisture (IP65/IP67)
High Efficiency Power Supply with Internal AC is available with 60 W and 120 W
Wi-Fi: 802.11 a/b/g/n, CCX v4 with Diversity Antennas and Bluetooth® v4.0 Wireless Technology
Multi-Touch operation on the anti-glare glass panel even when wearing gloves and a High Resolution Color Display
External ABCD, QWERTY and Software Keyboard Options
The SH21 is also available as an SH15 Vehicle Mount computer