CK3R alphanumeric, standard range imager, bluetooth, 802.11 b/g/n, Intermec client pack

£962.75 inc VAT£802.29 excl VAT
CK3R / Alphanumeric / EA31 Standard Range Imager / No Camera / 802.11 b/g/n / Bluetooth / WEH 6.5 / All Languages / Intermec Client Pack CK3RAA4S000W4400
Delivery time: Call for lead-time
Honeywell CK3R rugged handheld mobile computer (Intermec)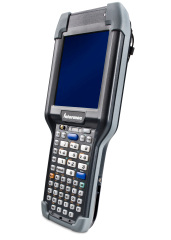 View Details
The Honeywell CK3R rugged handheld mobile computer allows you to optimize your operations into an efficient, automated and high-performing work environment
With a state-of-the-art power efficient design, the CK3R delivers full-shift battery life – even when running scan- and network-intensive applications and its slim, lightweight design makes the CK3R comfortable and easy to use.
Use the CloneNGo technology to simplify and expedite configuring and deploying your CK3R devices from a single master unit. No sophisticated IT support required. You can also combine the CK3R mobile handheld computer with Honeywell printers and scanners.
High Performance Scanning : Integrated high motion tolerance 2D area imager supports high-performance, omnidirectional scanning of 1D and 2D barcodes that's quick and accurate.
Rugged : Withstands multiple 1.2 m (4 ft) drops to concrete across all operating temperatures; IP54 seal rating against rain, moisture and dust; rugged, laser-etched keypad.
Wireless Technology : Supports industry-standard 802.11 a/b/g/n and Bluetooth wireless technology radio for adaptable communications.
Long Battery Life : Industry-leading battery performance will last a full shift and beyond – no more interruptions to replace or recharge batteries.
Power-Efficient Process : Equipped with a power-efficient 1GHz multi-engine Texas Instruments processor, 256MB RAM and 512MB Flash.