Falcon X4, Handheld, BT v2.1, 29-Key FN F1-F12c, WEC 7

£1,154.42 inc VAT£962.02 excl VAT
Falcon X4 Hand held, 802.11 a/b/g/n MIMO CCX v4, Bluetooth v2.1, 1GB RAM/8GB Flash, 29-Key Functional Numeric F1-F12, White Illumination 2D Imager w Green Spot, Windows Embedded Compact 7, EU
Delivery time: Call for lead-time
Datalogic Falcon X4 Mobile Computer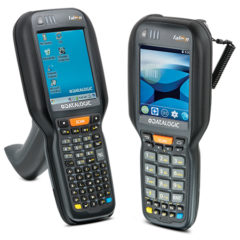 View Details
Leveraging well-known ergonomics and the elegant design of the Falcon™ product line, the Falcon X4 mobile computer represents the next generation of this flagship Datalogic product; ideal for both Retail and Logistics applications, both on the store floor and in the back office/warehouse.
The Falcon X4 mobile computer features a high performance multicore 1 GHz architecture that offers blazing speed when running Windows Embedded Compact OS and allows easy upgradeability to the Android™ OS. Users will never run out of memory with the standard 1 GB RAM and 8 GB Flash.
The Falcon X4 mobile computer is fully compatible with previous Falcon X3+ accessories and with most any existing CE applications.  The Falcon X4 mobile computer represents full protection for past investments of our end users and partners, but it also enables a new path to innovation and to the recent industry trends with the Android™ version (also upgradable from Windows® WEC7 models).
The new Auto Range scanning capability allows the Falcon X4 to scan up to 15.0 m / 49.2 ft while providing superior performance and user experience of Datalogic scanning technology.
Features
Choice of Microsoft Windows Embedded Compact 7 (WEC7) or Android® v4.4
Multiple data capture options: Revolutionary green line 1D linear scan engine; 2D multi-purpose imager with 'Green Spot' technology; 2D Auto Range imager
Superior Wi-Fi connectivity with 802.11 a/b/g/n and MIMO antenna technology
Featuring Datalogic's patented 'Green Spot' technology for good-read feedback and SoftSpot for soft trigger applications
Accessories of the Falcon X3+ are fully compatible with the Falcon X4
Available in either a hand held model or a pistol-grip model; both models can be converted