8680i Smart Wearable computer, standard, battery included
£859.90 inc VAT£716.58 excl VAT
Wearable Mini Mobile Standard, 1D, 2D (8680i). Includes extended battery, triggered ring and strap attachments. Charger sold separately and required for use.
Delivery time: Call for lead-time
Honeywell 8680i Smart Wearable computer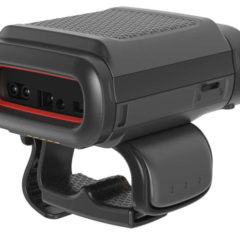 View Details
The Honeywell 8680i Wearable Mini Mobile scanner is ad compact, ergonomic, high-performance Bluetooth®-wearable scanning solution worn on one hand and designed to help businesses streamline high-volume workflows such as picking, sorting, putaway, and packing for increased speed and efficiency with every transaction.
Available in a Standard model for simple Bluetooth-paired data collection or an Advanced model for standalone operation in directed workflows, the 8680i wearable mini mobile scanner can add efficiency and effectiveness to the most common tasks.
The Standard version offers lightweight, ergonomic Bluetooth-wearable scanning with clear communication of wireless connection, battery status, and scan results. With Wi-Fi, a customizable user-facing display, and a two-button interface, the Advanced model enables streamlined workflows with a single device vs. a scanner and mobile computer combination. Key information can be presented to the worker on the display to enable task-specific responses (for example, confirm action completion or mark an exception).
Features:
Less Wasted Movement, More Efficient Scanning
Ergonomic, Lightweight Design
Streamlined Workflows in a Single Device
Customizable to Fit Application
Built Rugged for the Real World
Honeywell Connected Workflow Analytics