SB1, Healthcare White SB1 with integrated speaker, PTT and headset jack – DISCONTINUED
SB1 Integrated Audio WW single. Healthcare White SB1 with integrated speaker, PTT and headset jack. Does not accept Speaker or headset adapter accessories
Zebra SB1 Smart Badge - DISCONTINUED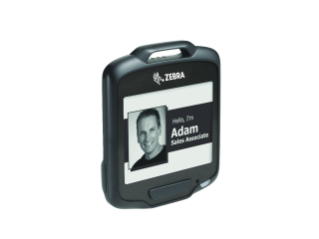 View Details
The Zebra SB1 smart badge, lets you connect your entire workforce to the people and information they need in order to exceed shopper expectations, complete tasks and maximize productivity. The SB1 is a brand new category of mobile device that can be deployed to the entire mobile workforce.
The Zebra SB1 smart badge gives immediate access to the information and features needed to deliver the best customer experience possible. With the SB1, retail associates can access personalized task lists and communicate with other staff members via push-to-talk (PTT)—wherever they are in the store. The SB1 also functions as a bar code scanner for instant price and inventory checks.
The SB1 provides the competitive edge of an always-connected workforce that has constant access to the people and information they need to maximize productivity and exceed customer expectations—each time they visit.
Durable built for everyday use
The SB1 is a true enterprise product, built to handle everyday use, including drops, spills, exposure to dust, heat and cold.
Easy to read everywhere
The three-inch E Ink Pearl display is easy to read in virtually every lighting condition.
Easy touch navigation
Finger-style navigation eliminates the need for a stylus and supports a gloved hand.
Built for sharing no need to assign devices
Workers can simply log in at the start of a shift to access their personal task list and messages.
Customizable bezel
Pick your color and add your logo to promote your brand and enable customers to instantly identify your associates.
Your data is safe and secure
The SB1 supports HTML5 thin client applications where the data resides on servers instead of the device, simplifying application development and eliminating the risk of data theft if the device is lost or stolen.
Business-class push-to-talk
At the press of a button, users can talk to other workers who are carrying a SB1, a Motorola Solutions mobile computer or other mobile devices.
Enterprise bar code scanning
Omni-directional scanning, an integrated aimer, LED and beeper make scanning a breeze just point and shoot, even if bar codes are dirty, damaged or poorly printed.