Epson ColorWorks CW-C6500Ae, cutter, disp., USB, Ethernet, black
£3,767.33 inc VAT£3,139.44 excl VAT
colour label printer, ink-jet (multicoloured), media width (max.): 216 mm, print width (max.): 212 mm, roll diameter (max.): 152,4mm, speed (max.): 85 mm/sec., USB, Ethernet, cutter, display, incl.: power supply unit, ink cartridge, order separately: power cable, colour: black
Delivery time: Call for lead-time
Epson ColorWorks C6500 Colour Label Printer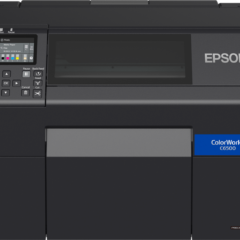 View Details
This on-demand, digital, four-colour label printer opens up new opportunities for businesses with lots of SKUs to manage and not much time.
The ColorWorks CW-C6500 extends Epson's range in order to meet the needs of small to medium batch customers across many sectors (food, chemical, beverage, manufacturing etc.)
The unwinder and rewinder specifically designed for Epson C6500 series color label printer can handle rolls up to 220mm (8.66") media wide and having an outside diameter up to 250mm (10"). Both Unwinder and Rewinder are equipped with a fixed 3" core holder.
Media Flexibility
Compact and easy to use
High Print quality
Easy integration