ZD411 Healthcare Desktop Printer – 203 dpi, USB, Ethernet, BLTE5, EU and UK Cords
£458.26 inc VAT£381.88 excl VAT
ZD411 healthcare, label printer, direct thermal, with 8 dots/mm (203 dpi) resolution, 6ips print speed, 512 MB Flash, 256 MB SDRAM, USB (type B), USB Host, Ethernet, BTLE5, media width (max.): 58 mm, print width (max.): 56mm, roll diameter (max.): 127mm, real time clock, Swiss Font, EZPL, incl.: cable (USB), power supply unit, EU and UK Cords. Disinfectant-ready housing. Colour: white.
Delivery time: Call for lead-time
Zebra ZD411d-HC 2" Direct Thermal Healthcare Advanced Desktop Printer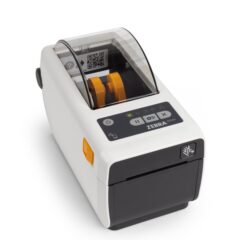 View Details
The Zebra ZD411d-HC advanced desktop printer is designed specifically for healthcare applications and can print high quality labels, receipts, and tags with ease.  Made with disinfectant-ready, UV-resistant plastics and an IEC 60601-1 medical-grade power supply for added safety, it includes all the advanced features you need and is built to perform flawlessly for years to come.  You can count on the ZD411HC to provide reliable quality printing thanks to its new architecture and advanced direct thermal technology.  Available in both 203dpi and 300dpi configurations with either USB, Ethernet, BLTE5 or USB, Ethernet wi-fi, BT4 connectivity options, this model is an extension of the proven ZD400 Series.  Plus, with a maximum print width of 2 inches, you can be sure that your labels will be clear and easy to read.