Zebra ZT421 TT, 6in., 300 dpi, USB, Bluetooth 4.1/MFi, EZPL
£3,185.60 inc VAT£2,654.67 excl VAT
TT Printer ZT421, 6in., 300 dpi, Euro and UK Cord, Serial, USB, 10/100 Ethernet, Bluetooth 4.1/MFi, USB Host, EZPL
Delivery time: Call for lead-time
Zebra ZT421 RFID Industrial Printer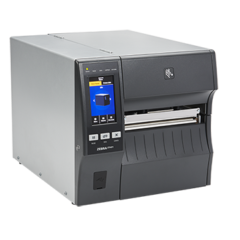 View Details
Durable Construction, Precise Printing
The Zebra ZT421 300dpi RFID printer offers high throughput and features an all-metal frame for rugged reliability in harsh environments. The 6-inch ZT421™ RFID can print and encode tags with a minimum pitch of 0.6 in./16 mm.
Adaptive encoding technology allows for excellent media flexibility and simple RFID calibration, eliminating complex placement guidelines.
Full colour touch display with the Zebra ZT421 300dpi printer
A 4.3-inch full-colour touch display features an intuitive interface to make quick settings changes, see printer status at a glance and create custom shortcuts. Zebra has globally certified its RFID technology on six continents to support deployments across complex, multinational supply chains.