DISTRI-COUNT-ST-RW
£1,523.10 inc VAT£1,269.25 excl VAT
Distri-Count with Standard Label Sensor. Can handle any core size between 25,4 and 76mm. Complete pack with integrated Base-Plate, MC-11-Rewinder with Adjustable Paper Guide and integrated Power Supply
Delivery time: Call for lead-time
DISTRI-COUNT-ST-RW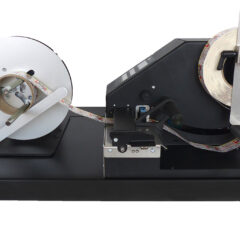 View Details
Unique Label Counter, counting precise from the 1st label and presenting the requested number of labels on tear-off bar. With a softkey control panel and large display, the Distri-Count will present you the requested number of labels or count your label roll before restocking it.
The RW-model comes as a complete bundle including an integrated base-plate, the MC-11 Label Rewinder with Paper Guide and an integrated Power Supply for both devices hidden in the base-plate.
Applications
The Distri-Count is designed with the Pharmaceutical market in mind. To comply with Falsified Medicine Directives all over the world, the Distri-Count can be of great value for: tamper evident sealing, uni-dose serialisation and serialisation of secondary and tertiary packaging.
Other applications and markets include: transportation, logistics and inventory management, high-value product identification (eg electronics), healthcare and retail.
Softkey control panel and large display for easy entering required quantity of labels
Easy Paper Loading with integrated measurement of the label size. Closing the cover after media loading starts the callibration process
High-end sensor with adjustable positioning for reliable counting of regular and special shaped labels.
Available in Ultrasonic edition for counting transparent labels
Dancer Arm keeps the media well tensioned for accurate and reliable detection and counting
In count mode, the Distri-Count will feed and count the entire label roll. Perfect solution to update your inventory before restocking the label roll.
RW-model comes with integrated rewinder and base plate for perfect alignment
Optional battery pack for creating mobile counting stations
Features
With integrated Label Rewinder and base-plate
Roll capacity up to 220mm
Supports 38, 40, 44, 70, 76mm core diameters
Max Label Length of 200mm