PM43C, FTD, Ethernet, Rewind+Label Taken Sensor, RTC, TT, 203 DPI
£2,121.89 inc VAT£1,768.24 excl VAT
PM43CA, Full Touch Display, Ethernet, Long Door + Front Door, Rewind+Label Taken Sensor, Hanger + Real Time Clock, TT, 203 DPI, EU Power Cord 
Delivery time: Call for lead-time
Honeywell PM43C Industrial Label Printer (Intermec)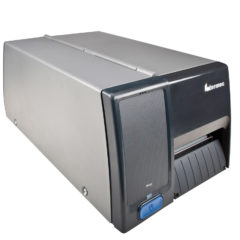 View Details
The Honeywell PM43C smart industrial label printer has reliable performance for uptime assurance, quick deployment and integration, and the fastest throughput in their class – no PC required.
With proven reliability, fast drop-in deployment and integration, and advanced connectivity to maximize your uptime, the PM43C is perfect for applications in distribution centers, warehouses, manufacturing operations, and transportation centers.
Minimize workforce training and device support needs with intuitive features like a vibrant color touchscreen or intuitive icon user interface. Notifications are displayed right on screen, and the interface can be locked down to eliminate tampering.
A rugged metal enclosure means the PM43C industrial label printer gives outstanding print performance in harsh environments. Plus, in-printer apps can directly control other devices such as scanners, scales, keyboard and other peripherals – without the need for an attached computer.
Features
Fast to deploy and easy to integrate, PM series printers fit into virtually any environment.
Rapid 304 mm/s (12 ips) print speed and consistent barcode printing quality with pin-point accuracy.
Run apps right inside the printer, control peripherals, and eliminate the need for a connected PC, using either C# for Printers or Fingerprint.
Flexible conectivity options, plus every PM series printer features a multilingual web interface for simple remote device management.
Avaiable with a large, color, multilingual, tamper-proof touchscreen or intuitive icon user interface.
Available with three different enclosure sizes, all with multiple door configurations, to fit your needs plus a wide range of accessories for maximum media compatibility.
Available in RFID-enabled configurations capable of simultaneously encoding and printing frequency-agile RFID tags.

The PM43C is also available in PM23c (50.8 mm/2 in)  and PM43 (101.6 mm/4 in) models