Introduction to Labels

Thinking of buying some labels, but not sure what type of label you need?  Take a look at this in-depth label guide put together by the Supplyline experts.
Different Types of Labels
Laser Labels: These are self-explanatory and are used in machines like photocopiers, ink-jet and laser printers.  Based on the A4 size, they come in a range of about 15-20 standard sizes off the shelf for next day delivery.  An example of this would be 2 per sheet making 2 labels of A5 size.  These are common for address labels and product marking and are used in a wide range of industries. The main market is plain white but there are plenty of companies using either coloured or pre-printed labels with their own logos or designs etc.  Mostly these labels are paper-based with a permanent adhesive but can come in other materials like Polypropene and other adhesives like peelable and freezer.
Self-Adhesive Labels on a Roll: This is the main label market by value & volume; we estimate the A4 sheet market makes up less than 5% and labels and tags on a roll make up the rest.
Labels on a roll are typically printed using Direct Thermal or Thermal Transfer Label Printers.
Label Printing Techniques
There are 2 main types of label printing techniques.  The first one is Direct Thermal, this is a heat-sensitive label that has a coating which reacts to heat to produce the printed image (these are very similar to receipts you get from most shops that fade overtime).  The printhead in the printer produces heat which then makes the coating react to produce the printed information.  Because it uses heat-sensitive materials, direct thermal labels do not have a long shelf-life, usually lasting around six to eight months.
Direct Thermal labels have a tendency to scratch easily, and overexposure to direct sunlight or high temperatures will cause the print to fade faster.  Approx 90% of direct thermal labels are on what we call Eco (or economy) which has one layer of coating; the rest is made up of Topcoat labels which has two layers of coating.  Among other industries, the Topcoat labels are very common in hospitals and pharmaceutical companies as they last up to two years and offer more protection in general.
The second main type of thermal printing technique is Thermal Transfer.  These labels need a printer with a ribbon which then gets heated by the printhead in the printer, leaving the required image or print on the label.  The main advantages of thermal transfer is the range of materials and applications they can cover and the lifespan of the finished label.
Range of Label Materials
You can use many different label materials including: Paper, Polypropylene, Polyester, Silver Poly, Cardboard & Vinyl.  Most of these can be bought in either a Matt finish or a Semi-Gloss finish and can also include tags and tickets as well as labels.
Adhesive Types:  The most common adhesive is a Permanent followed by Peelable (these are very common in retail allowing for removal without marking or spoiling the product).  Permanent and Peelable adhesives make up the main market; in addition to these there are Freezer, Hi-Tac and Blockout adhesives to name a few.
Finished Labels:  Labels can be plain white or colour washed in a single colour, or fully pre-printed up to 10 colours.  In addition we can add UV varnishes or a laminate for better protection, silver & gold foils for high grade effects making the label pop (these are common in the high grade market such as for wine & spirits labels) and holograms for added security (this is very common with events or airline tickets).


Finished Tags:  Tags & tickets are used in a wide range of industries and have a lot of applications.  Some of these include:
Clothing or Kimble tags:  these are displayed on most clothes and garments and in hardware stores on items for sale that hang on displays.

Event tickets:  these are used as entry tickets for any event from a music festival to a football match or a theme park.  Often these will have extra security layers added like gold foil and holograms depending on the organiser.

Tray end tags:  these are used in the supermarkets for the supply of fresh fruit and veg for tracking, traceability and stock management.
Thermal Receipt Rolls: We can supply a range of paper or thermal paper for most POS and EPOS printers from suppliers like Epson & Star.  A couple of projects that we are very proud of – Supplyline were chosen as the original partner for the "Boris Bikes" project in London.  We supplied the pre-printed thermal paper rolls for all of the machines for the rental of the bikes both for Barclays Bank then later for Santander (we worked with Serco on this project).
We are also very proud to be chosen as a supply partner to last year's Commonwealth Games in Birmingham.  In collaboration with GL Events, one of the main event sponsors, we supplied all the labels for the backs of the seating and aisle rows for most events.  We are glad to say all labels stayed stuck in place and no-one complained about finding their seats.  In fact over 1 million people sat on our labels during the whole event.
How do we make a label or a tag?
We buy in huge jumbo rolls and store them at our factory in various widths, lengths, materials and adhesives. Once we receive an order for labels, we select the most appropriate jumbo roll for size and costs.  We then slit and cut multiple rolls at once using one of our cutter tools; this allows us to cut the material into the size and shape of each label while removing all the waste and winding onto finished, complete rolls.  We have over 3000 cutters & sizes to choose from for labels and over 100 cutter sizes for tags & tickets.  These will include a range of square, rectangle, oval and circle shapes.  So whatever the size you want, we will almost always be able to offer the exact size and shape to suit your requirements from our existing range.
Label printing at factory level
Option 1 – Flexo Print:
Most of the labels we produce are on flexo presses; this is the most cost effective way of producing labels for plain white or colour labels.  When we print a colour design, we buy in a fixed set plate per colour type and set the presses up with the correct plates.  We then flood the chambers with the appropriate colour water based ink; the labels then get layered with the inks as they pass through each chamber, producing a finished colour label.
Option 2 – Digital Print:
In the past, digital printing was only used for small runs or when customers had multiple types and designs.  Art and design plates do not need to be purchased with digital printing as opposed to flexo printing.  This saves a lot of money on plate charges and allows continual changes and updates without affecting the costs.  Digital presses have now come a long way and the cost per label has reduced a lot, allowing them to be used more and more in our industry.  We can typically offer quicker lead times on these presses and the print quality is higher, producing a more photogenic finish.
The life cycle & use of a label
Manufactured products need to be labelled as soon as they are finished normally with a product label or a batch number.  If the label is sold to retail stores, it needs an additional retail or EAN barcode label for the point of sale.  That product then gets stored in a warehouse where another label is used for the location.
Once the product is picked, it goes in an outer case box which then gets another label.  If there are multiple boxes then a pallet label is also needed to list the products on it. The product may also have a promotional or pricing label and if the product is ever returned to the sender, another label is needed for its return and also a restocking label.  So you can see one product may need anywhere from 2 up-to 8 different labels to complete the cycle of its life from beginning to end.
What industries use these labels?
Retail:  Labels used in retail applications are one of the broadest range of labels that exists, due to the many different operating aspects of the retail industry.  Commonly, there are logistics box-end / pallet labels, product labels and customer returns labels through the distribution chain and pricing / promotional sale labels of all sizes within stores all over the country.
More and more frequently now we're seeing companies using QR Code labels for promotional use, brand awareness and to add to the customer experience.  These QR Code labels are commonly used now throughout the product journey, eg. logistics box-end, pallet & product labels.  They often deal with more return labels than most due to the rate of customer returns but they may also be needed for price markdown labels / promotional or sale labels.


Food:  This is by far the largest label market by volume and use as there are product labels for practically every individual item sold today.  As you can imagine we get through a lot of grub in this country meaning that the food industry is a round-the-clock operation that requires labels every step of the way.
Food labels are subject to labelling requirements such as sell-by-date and batch codes for traceability, ingredient & allergens information in accordance with Natasha's Law.  You'll also find a lot of printed tags in the form of Tray-End Cards in a supermarket, that display barcodes and sell-by-date for goods in the fruit and veg section (for example, the potatoes in the plastic trays).  These trays get re-used in the supply chain every week and need a new tag each time.
Drinks & Beverages:  A lot of the labels used in the food sector will also be found within drinks and beverages such as date / batch labels within production and outer-case / pallet labels for distribution.  With the exception, however, of the product labels used by drinks manufacturers.
The level of customisation that goes into the labels we produce for our beverage makers is second to none.  We see requests for metallic foiling, embossing & matt/gloss varnishes, all used on a plethora of different label materials.  Some of our customers opt for materials like kraft paper, recycled paper or synthetic materials for a perfect finish, to really represent their brand and highlight their product's label on the bottle.
Healthcare:  Healthcare labels are subject to some of the toughest guidelines as the information printed on healthcare labels is usually of paramount importance and under no circumstances can it be lost.
Healthcare labels often need to be resistant to extreme moisture, abrasion, chemical and temperature.  When dealing with blood-bag labels, patient wristbands and laboratory / sample labels, you really cannot afford to lose the information that's printed on them as the consequences could be fatal.
Transport & Shipping:  Anything that is sent from one place, or another needs to be identifiable using a shipping label that might include multiple barcodes indicating product information, location of origin, shipper info etc.  If a pallet is shipped containing multiple items then an additional label is required for a pallet to disclose the content.
Other labels required during transport include warning labels to indicate heavy or fragile items, hazardous items or chemicals and also anything electrical containing a lithium battery due to the UN3481 regulation.
Pharmaceutical:  Similar to labels used within the healthcare sector, pharmaceutical labels bear a huge responsibility.  At the very least, they must remain legible for multiple years and retain clear print whilst being cryogenically frozen the whole time.
Given the importance of the work done by pharmaceutical companies, a batch of labels failing to meet the requirements of its environment, could mean the complete failure of a medical study!
Aerospace:  The aerospace industry covers everything from Air-Freight to spare parts for air-vehicles to the actual production of aircraft.  Air-freight sees similar usage to Transport and Shipping with outer-case and pallet labels, but with the added requirement of encountering sub-zero temperatures when 30,000 feet up.
Spare parts have to be stored and tracked within a warehouse using barcode labels for the products and also the location in which they are kept.  In aerospace manufacturing, virtually every single component used will have a barcode label for traceability, so that every vehicle can be identified and traced right down to the nuts and bolts.
Automotive: If you were to take a look through your car, you'd easily find 10 different types of labels such as a VIN number in the chassis, instruction labels in the doors and glove box, or a number of hazard labels under the bonnet.
Almost every component in your car contains a label showing part numbers, serial numbers and production date.  These labels must remain firmly stuck on for decades, covering hundreds of thousands of miles without coming off or becoming unreadable.
Clothing & Textile:  Manufacturers of clothing and textiles use fabric tags to identify products and include important information like cleaning directions and a breakdown of the materials used.  Plus, sizing labels and Kimble tags for finished products going into stores.
When materials/products are packaged, they'll have to be labelled to identify the product and indicate production date/batch, contents etc, plus outer-case and pallet labels for distribution.
Garden Centres & Horticulture:  The biggest challenges for labels used in horticulture are the consistent UV and water exposure.  Labels can be produced in cost-effective paper for price / barcode labels, or waterproof synthetic materials for labels that will be outside or exposed to moisture.
There is a label for every single application no matter the resistance required.  Loop tags for wrapping around plants / trees are also commonly used, alongside digital plant labels to be inserted into pots.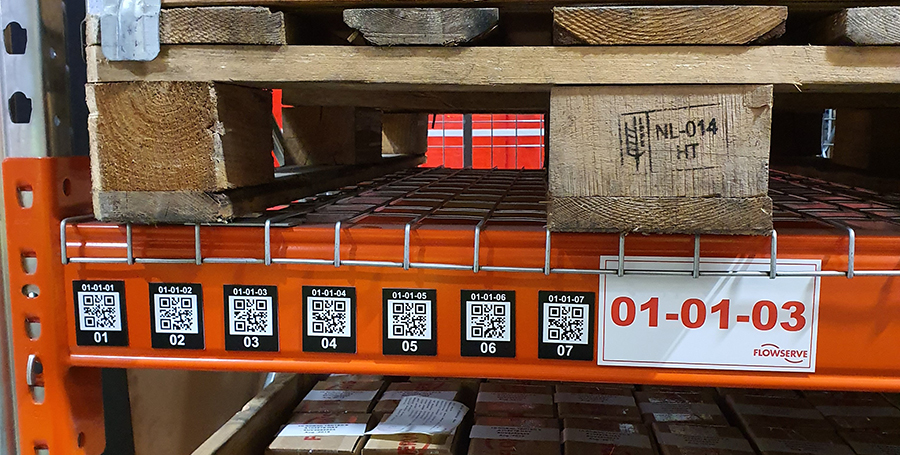 Warehouse:  Labels used within the warehouse serve so many different purposes, from Pallet Labels and Racking Labels for identification to Floor Markers for directions and warnings.
We can identify labels within almost any procedure performed in a warehouse, whether it's barcode labels on stored products, racking labels to signify location or product information, shipping labels for dispatch or hazard labels for equipment.
Distribution & Internet Retailing:  With the exponential increase in online retailers and drop-shippers over the last few years, the necessity of labels has only gone up.  There are nearly 11.5 million parcels shipped around the UK daily and every single one needs a shipping label.
Online retailers will certainly have a requirement for returns-labels as an estimated 30% of all online orders are returned to sender.  Some sellers also need to produce their own internal barcode labels to keep track of and send out products with accuracy and efficiency.  Others will need labels to provide information about their packages and contents (eg. Hazard Lithium or Heavy/Fragile labels).
Chemical:  Chemical Labels are there to help identify hazardous chemicals and explain the dangers and precautions about them.  It is also important that labels are used to specify how chemicals are stored and disposed of safely.  Hazard labels come in all shapes and sizes, ranging from pictograms, hazard-statements and signal words.
You can also check out our range of Barcode Scanners, including Wireless, 2D, DPM imagers and Healthcare.